Move over, popcorn — it's time for popped sorghum. Sorghum, a gluten-free, ancient grain popular in the South, has been steadily gaining ground as the new "it" grain of choice, thanks to its high fiber, potassium, iron and protein content. Now chefs have started popping it for dinner, desserts and even cocktails (recipe below)!
LA Chapter, Los Angeles
At Ace Hotel in L.A., a classic buttermilk pie is baked on top of a sorghum cookie crust, and topped with popped sorghum and a brown butter whip. "Since sorghum is a grain popular in the South, I figured I'd stay close to its roots and do a traditional Southern dessert," says pastry chef Ricky Webster. "In this dessert we not only use the whole grain itself to pop, but we use a sorghum molasses to add another depth of flavor. I really like its earthy sweetness."
Restaurant Marc Forgione, New York City
Chef Marc Forgione's Popcorn Shrimp, served at his namesake New York City restaurant, is a riff on classic shrimp and grits, using a cheesy mix of popcorn and popped sorghum instead of the grits. "I like using sorghum because, being an Italian, there was a lot of pasta and bread, and I found out later that I have an aversion to gluten, so sorghum has been the perfect replacement," explains Forgione. "The shrimp and 'grits' were inspired by a trip to New Orleans, but I decided to use the popped sorghum to make 'grits' so it tastes like popcorn. Plus, the popcorn is also really cute."
Counting House, Durham, N.C.
Chef Josh Munchel serves a Roasted Hubbard Soup with fermented beet and candy-striped beet, topped with curried popped sorghum. "The popped sorghum adds a nice toasty crunch and texture to the soup," says Munchel.
Capo's & Tony's Pizza Napoletana, San Francisco
These casual Italian spots switch things up with the Irish Hello cocktail, a riff on a nutty caramel apple topped with a popped sorghum garnish. Cheers!
The Irish Hello
12 ounces Mount Gay Eclipse Rum
6 ounces E & J Brandy
1 1/2 ounces Peychaud bitters
1/2 ounce Angostura bitters
18 ounces pineapple juice
9 ounces black tea or chai simple syrup
5 ounces lime juice
Add all ingredients into a shaker, shake and double-strain into a double rocks glass with a large ice cube. Garnish with popped sorghum.
More posts from Andrea Strong.
Similar Posts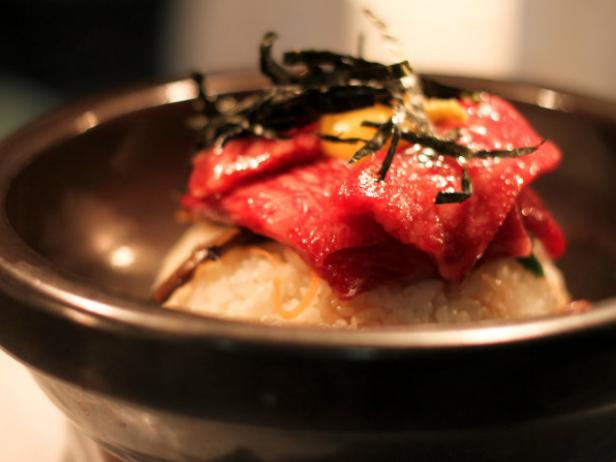 New Yorkers may be a bit of a skeptical bunch, but many leave their doubts at the door when indulging in omakase at their favorite sushi spot....