The East Coast is bracing for its first real winter storm of the year, and it looks to be a big one. Combat cabin fever and celebrate the snowfall with icy treats made with fresh snow. They'll keep the kids (and kids-at-heart!) occupied, but when you're truly cooped up and can't get to the store to make dinner, we've got you covered there, too.
Maple Snow Cone
This icy treat is a winter version of a refreshing summer favorite. Scoop fresh snow into a paper cup or cone. Drizzle with pure maple syrup to taste. Add a splash of bourbon for an adult version.
Snow Halo Halo
Halo-halo is a Southeast Asian dessert whose name translates into "mix mix," so it's truly "everything but the kitchen sink." Dress up snow at home and make your own version. Pack a parfait glass about 3/4 of the way full with fresh snow. Drizzle with evaporated milk to taste. Top with a scoop of vanilla or black raspberry ice cream (to mimic the traditional purple-yam kind). Decorate with chopped fresh fruit like pineapple or mango, large tapioca pearls, toasted coconut and your favorite crunchy cereal (the fruited kind is fun!). Dig in.
Snow-fogato
Affogato is a simple Italian dessert where espresso is poured over ice cream. Use snow as a stand-in. Pack together fresh snow to make a tight snowball about the size of a baseball. Put in a large coffee cup. Pour in sweetened condensed milk and then strong coffee. Top with whipped cream and chocolate shavings and eat quickly!
Check out the full gallery for more Ways to Eat Snow.
Come dinnertime, turn to these winter pantry-raid recipes that call for nonperishable ingredients exclusively, but taste remarkably fresh. The warming dishes will fuel everyone up for another day of sledding and snowball fights.
Creamy Mushroom Pasta
If you're snowed in, or just way too tired for a trip to the store for provisions, this comforting pasta is perfect. Think beef stroganoff meets chicken paprikash (without the meat). The sauce is uber-creamy without the help of cream. Instead, the combo of evaporated milk, flour and mustard does the trick.
Curried Pumpkin and Wild Rice Soup
There's always one can of pumpkin puree kicking around after Thanksgiving. Put it to use in this ultra-flavorful soup. If you don't have wild rice, just use 1/2 cup of any dry grain you have on hand.
Mexican Bean, Rice and Corn Bake
Food Network Kitchen took a cue from a favorite Mexican brunch dish, chilaquiles (fried tortilla chips tossed with a red or green sauce), to create this easy no-shop recipe. The chili powder in the sauce has two jobs: one as flavor booster and the other as thickener.
For more Winter Pantry-Raid Recipes, flip through the full gallery.
More posts from Sara Levine.
Similar Posts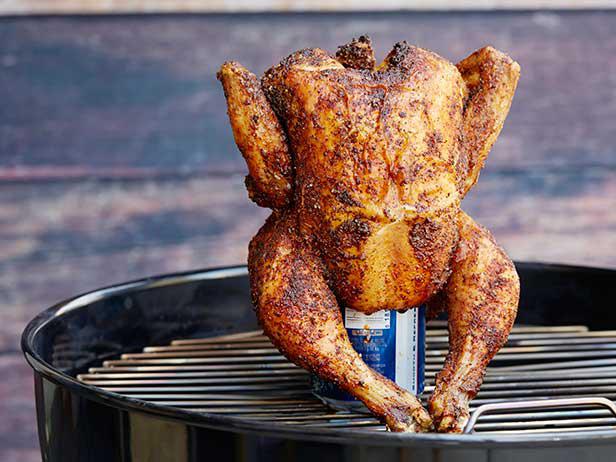 This clever grilling technique is easy enough to perfect even on your first try making it....