One of the most-important life skills I'll ever teach my kids will be about food: how to prepare fresh dishes that nourish their bodies and, with any luck, taste good too! And since cooking with kids (like any task) takes longer than doing it by yourself, we've put together these basic recipes complete with starter tasks designated by age. Building confidence in the kitchen can turn into a lifelong habit that will serve everyone well … especially if the kids start making meals themselves! Let's get started.
Taco Pockets (pictured above)
One part burger, one part taco, Rachael Ray's 5-star recipe delivers a hearty dinner with all the Mexican flavors kids love.
Kids: Fry turkey patties, cook tortillas
Preschoolers and Toddlers: Measure out spices, assemble lettuce, tomatoes and cheese on "pockets"
Pizza Skewers
This is basically a deconstructed pizza — and we know kids love pizza.
Kids: Thread the tomatoes, sausage and mozzarella on the skewers
Preschoolers: Stir the seasoned oil and roll the pizza dough
Sweet Potato Oven Fries
Sometimes a side is the perfect place to get the kids in on the action. It's a low-stakes part of dinner and, in this case, takes only minutes to make.
Kids: Slice sweet potatoes, turn on oven
Preschoolers and Toddlers: Set sliced sweet potatoes on pan, sprinkle with salt and cinnamon
Easy Ham & Egg Quiche
Have you ever noticed how much kids love eggs? Poached, scrambled, green … This simple technique comes together quickly for a surprisingly filling meal everyone enjoys.
Kids: Smooth dough into pan, crack eggs
Preschoolers and Toddlers: Whisk eggs, sprinkle fillings into bowl
Winter Minestrone
When Giada De Laurentiis makes minestrone, you know it's going to be rich, satisfying and good to the very last slurp.
Kids: Peel potatoes, trim ends of Swiss chard, add ingredients to pot and stir
Preschoolers and Toddlers: Push buttons on food processor or blender, rinse and divide beans
No-Bake Chocolate, Fruit & Nut Bars
It's so nice to have nutritious snacks on hand, which is why I love putting the munchkins to work on dishes like this one.
Kids: Collect ingredients from pantry, cut bars when ready
Preschoolers and Toddlers: Press and flatten mixture into the pan
Roasted Sausages, Sweet Potatoes & Apples: A Simple Sheet Pan Dinner
Not only is this one-pan dinner a nutritious meal our kids swoon over, but it's also an easy dish for them to help with.
Kids: With supervision, slice the sausages, sweet potatoes and apples
Preschoolers and Toddlers: Use fingers to completely coat all ingredients with olive oil on the sheet pan, then smooth them out into one layer
Charity Curley Mathews is the founder of Foodlets.com: Fresh Recipes Kids Love + Simple Tips for Pulling It Off Without Losing Your Mind, a contributor to eHow, Huffington Post and InStyle, the mother of four small kids and nonstop wiper of the counter.
More posts from Foodlets.
Similar Posts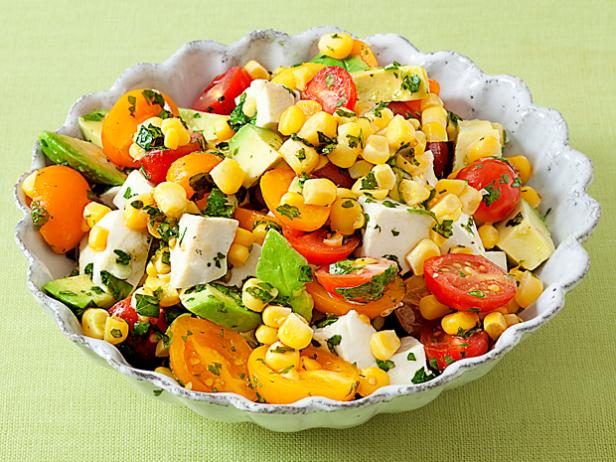 When it's too hot to cook, look no further than these tomato-focused recipes....