How is that the simple combination of hot sauce and butter, otherwise known as Buffalo sauce, can make everything seem right with the world? We know the beloved flavor best as the sticky-spicy coating on baked or fried chicken wings. But if you've been reserving Buffalo sauce for chicken and chicken alone, then you've barely scratched the comfort-food surface. Meatballs, pulled pork, macaroni and cheese, and even cauliflower are all suitable canvases for this brilliantly easy sauce. You can even customize the basic recipe by adding in barbecue sauce for a sweet, tangy note — or you can swap out the butter for lower-fat alternatives, like chicken broth, maple syrup and lime juice. Here are just a few ways that you can expand your Buffalo horizons.
Buffalo Drumsticks (pictured at top)
We had to include this one — it's a classic for a reason. Remember to pop the drumsticks back in the oven for 10 to 15 minutes after tossing them in the Buffalo sauce. This locks in the flavor and ensures crisp, golden skin.
Buffalo-Buffalo Meatballs
The chefs in Food Network Kitchen achieve the ideal meatball texture by combining ground meat with panko, sour cream, grated carrot and celery. The meatballs get great Buffalo flavor after they've simmered in a mixture of chicken broth and hot sauce.
Buffalo Chicken Dip
Claire Robinson's dip has all the big flavors of Buffalo chicken wings (hot sauce, blue cheese and even celery) without the fuss and fat of frying. To make it even more figure-friendly, use light cream cheese.
Buffalo Chicken Cheese Balls
Rotisserie chicken and sharp cheddar cheese are the key ingredients in this irresistible fried snack. A blue cheese-and-mayo dip spiked with hot sauce goes on the side.
Wingless Buffalo Chicken Pizza
Rachael Ray tops a thin-crust pizza with tangy Buffalo chicken and chopped scallions for a bright pop of flavor. There's no shame in using store-bought pizza dough to save yourself time — especially if you plan on serving this pizza to a hungry crowd.
Buffalo Chicken Sliders
Jeff Mauro makes his pulled chicken with brown sugar, paprika, cayenne and — of course — hot sauce. For fall-apart-tender results, return the chicken to the oven after it's fully cooked, then broil until a caramelized crust appears on top.
Buffalo Cauliflower with Blue Cheese Sauce
Enjoy one of your favorite bar and party snacks in a new form. Cauliflower that has a spicy Buffalo coating and is served with a cool, creamy blue cheese sauce is a delicious, vegetable-centric stand-in for the traditional wings.
Buffalo Chicken Macaroni and Cheese
The key to getting the perfect bite in every forkful of Food Network Magazine's cheesy Buffalo mac is the layering: macaroni, chicken, macaroni, cheese sauce. Top with the panko-blue cheese-parsley mixture and bake until bubbly.
Hungry for more Buffalo-flavored foods? Here are a few recipes to keep in mind for your Big Game bash this year.
More posts from Emily Lee.
Similar Posts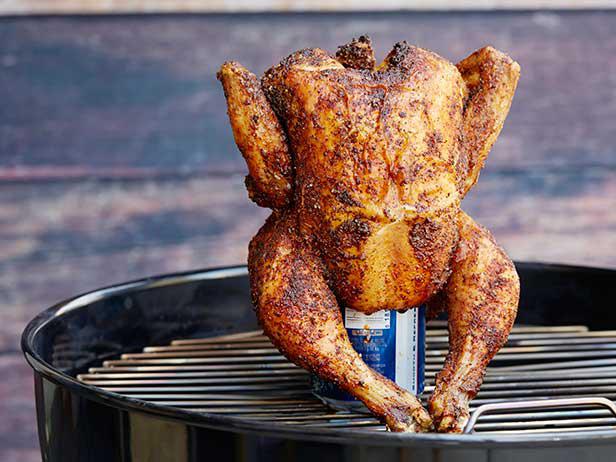 This clever grilling technique is easy enough to perfect even on your first try making it....