The hype about kale has not worn down. Kale is everywhere: fancy restaurants, cafes, juice bars and home kitchens across the globe. But not everyone is on board the kale train … for now at least. If you're still not sold on the leafy green, a raw kale salad is not for you. But you wouldn't even notice it in this creamy artichoke dip, and maybe you'd come to love it in this mac and cheese. Here are our favorite recipes to feed kale newbies. (Kale fans, you'll obviously love them too.)
This lightened-up recipe tastes just as creamy and decadent as everyone's favorite warm party dip. Kale adds heartiness and a wide array of nutrients without overpowering the cheesy goodness.
Kale Tomato and Eggs Benedict
When in doubt, put an egg on it. Smothered in a runny yolk and mustard-hollandaise sauce, sauteed kale doesn't get much better.
Kale and Pistachio Pesto Spaghetti
This may look like ordinary pesto, but it's a delicious and earthy spin on the traditional basil-and-pine nut combo. Try it tossed in pasta or smeared on grilled fish — also on chicken, pork or steak. It pretty much tastes awesome on everything.
Creamy Baked Macaroni and Cheese with Kale and Mushrooms
Don't let the large bunch of kale throw you off — it cooks down a lot. And when laced with a creamy, slightly tangy cheese sauce, you'll enjoy the hearty greens more than you could have ever imagined.
Giada's House Soup
Soup is a great vessel for kale, and Giada De Laurentiis' House Soup is a good recipe to test that concept. Dropped into the simmering pot, the Tuscan kale leaves become tender and take on the wonderful flavors of the Parmesan-seasoned tomato broth. White beans, farro and kielbasa make it a satisfying winter meal.
Spicy Kale and Corn Stuffed Chicken Breasts
Kale and corn make a duo rich in vitamin A for this stuffed chicken recipe. With a combo so nutritious, you deserve some cheese. Pepper Jack packs a punch of heat for the filling, but Havarti and Monterey Jack are also good options.
Bean-Kale Burgers with Sweet Potato Wedges
These veggie burgers are a far cry from being boring meatless patty alternatives, thanks to kale, pinto beans, pepper Jack cheese and roasted peanuts. Trust us, it all works. Making them also gives you an excuse to make sweet potato fries.
Starting to like kale now? Find more healthy kale recipes here.
More posts from Lauren Miyashiro.
Similar Posts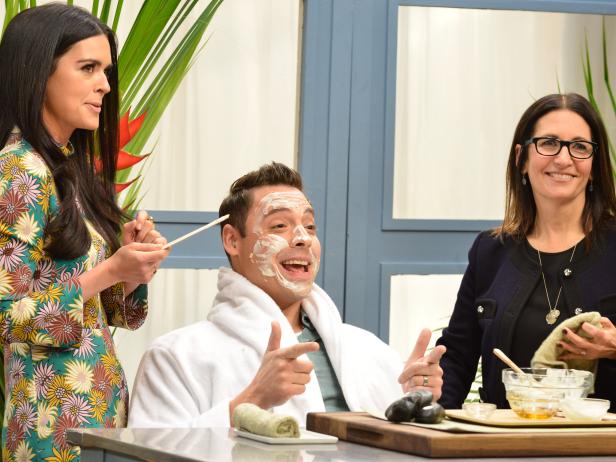 You don't have to travel somewhere exotic to make the most of your time off....