Nobody knows late-night cravings like college students. So we partnered with Spoon University to find the 52 best late-night college haunts in the country. Here are seven of our top choices. For the full list, head to Spoon University.
University of Illinois at Urbana-Champaign (Champaign, Ill.): Cracked Food Truck
This thing is basically gold on wheels. Students flock to this yellow truck from all corners of Green Street when closing time rings in.
When to go: When you're drunk, when you're hung over, or if you're up late studying. Basically, it's comfort food for any mental state you may find yourself in during college.
What to get: Order the Sloppy Jose. It has all the elements of any great bacon, egg and cheese sandwich, but is served on ciabatta bread, with chorizo and guac. Also, the Parmesan truffle tater tots are dank.
#SpoonTip: Head over right before the bars close, to beat the rush. The workers are super-cool and chill, so be nice to them even when you're #drangry.
Boston University (Boston): T. Anthony's
This pizza joint, decked out with BU sports memorabilia, tends to be packed late at night and on the weekends. And the guys who work there are super-cool and are willing to donate gift cards and tons of pizza to BU club events.
When to go: T. Anthony's usually has a line out the door on Thursday through Saturday, starting around 10 p.m., so it's your call.
What to order: If you're with a group, order a cheese pizza to share. But if you want a smaller snack for yourself, get the mozzarella sticks or the chicken Parm sandwich.
#SpoonTip: Always scan the line to make sure you don't know anyone before you wait at the back. And grab a table ASAP so you can chow down comfortably. You can also get your pizza delivered, which is perfect for those Boston snowstorms.
Brown University (Providence): Louis Family Restaurant
Located in College Hill, Louis Family Restaurant is the late night-early morning spot of choice for Brown students. The family-owned diner is known for its all-day breakfast and delicious comfort food.
When to go: Students challenge themselves to stay up until it opens at 5 a.m., whether they're partying or working on a paper.
What to order: Breakfast food, in particular the Drunk Johnny — it's an omelet with corned beef hash, onions and cheese … amazing.
#SpoonTip: Before you graduate, you've gotta cap off at least one all-nighter with a 5 a.m. breakfast here.
University of Miami (Miami): Pinecrest Bakery
This popular 24-hour Cuban bakery serves a selection of Cuban sweets and sandwiches.
When to go: Late at night, probably around 3 a.m.
What to order: A Cuban sandwich — it's huge and really cheap. What more could you want from late-night food? But if you're in the mood for something sweet, try any of the Cuban baked goods.
#SpoonTip: Order a few sweets to share with your friends.
University of California, Los Angeles (Los Angeles): In-N-Out Burger
Everyone from the West Coast knows In-N-Out is the spot to get classic fast food — those burgers and fries, though.
When to go: On party nights, like Thursdays — it's bustling, and the drive-thru line often goes out into the street.
What to order: The go-to here is the "animal style" burger and fries. The milk shakes are amazing and out of this world, so be sure to order one with your meal.
#SpoonTip: There's actually a "not-so-secret" menu online that people like to choose from 'cause it has some of the most-popular ways customers like their burgers prepped.

New York University (New York): Mamoun's Falafel
Mamoun's closest location to NYU is on bustling MacDougal Street in Greenwich Village, and it's the best spot to hit up when you're out partying until 4 a.m., since it doesn't close until 5 a.m.
When to go: After hitting up the bars or the club. Or when you're in the mood for an inexpensive pita pocket filled with Mediterranean goodness.
What to order: If you're here with a friend or two, be sure to get the falafel sandwich and the chicken or lamb shawarma. Split them so you can try more than one; you won't regret it.
#SpoonTip: Make sure you have cash, 'cause they don't accept plastic.

Massachusetts Institute of Technology (Cambridge, Mass.): Domino's
Yeah, we know Domino's a worldwide chain, but Boston is known for hittin' the hay kinda early and Domino's is one of the few places that stay open pretty late.
When to go: After a night out, which means around 1 or 2 a.m.
What to order: Cheesy bread is key. So order a medium pie just so you can get this chewy, gooey and herby carb-filled goodness.
#SpoonTip: Check for coupons online (on your phone) before going, and be sure to order with other people to get even more bang and variety for your buck. FYI, they also have a gluten-free crust.
To see all 52 top late-night college favorites, head to Spoon University.
More posts from Guest Blogger.
Similar Posts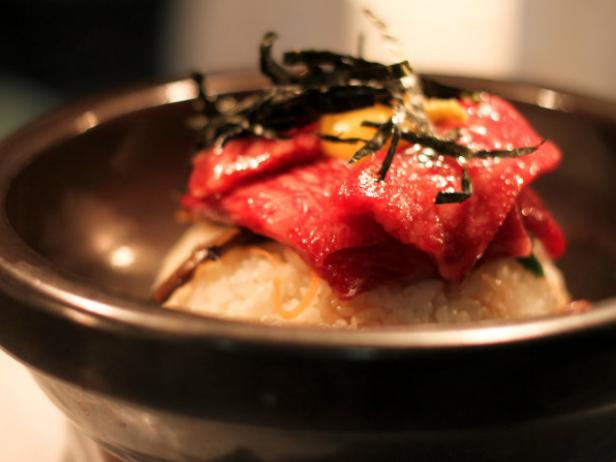 New Yorkers may be a bit of a skeptical bunch, but many leave their doubts at the door when indulging in omakase at their favorite sushi spot....