By now we're two weeks into winter (and counting down the seconds until spring), so hopefully your freezer is packed with comforting meals that are ready to be reheated at a moment's notice. If not, that's okay — there's still time to prepare a bevy of cozy dishes to have on hand for upcoming snow days. These easy, make-ahead casseroles are perfect for nights when the idea of heading out to the grocery store is simply unfathomable. It's hard to believe, but each recipe contains under 500 calories per serving. And they don't skimp on the creamy, cheesy layers that make a casserole a casserole, either. Find out what tricks you can use to lighten up the quintessential winter comfort food.
Vegetarian Tortilla Casserole (pictured at top)
This gluten-free, budget-friendly recipe comes together in under an hour with the help of packaged corn tortillas and frozen, chopped spinach. Each scoop is chock full of tender baked squash coated in tangy salsa verde and gooey cheese — for just 370 calories per serving.
Chicken and Rice Paprikash Casserole
Food Network Kitchen transforms comforting chicken paprikash into a hearty casserole by topping brown rice with baked chicken thighs and a spicy paprika-vegetable sauce. Bell peppers aren't a traditional ingredient, but they add a lot of vitamin C and natural sweetness to the dish, so they're welcome in our book.
Chicken, Broccoli and Cheese Casserole
Rotisserie chicken and frozen brown rice boost the convenience factor of this comforting casserole, which makes a well-rounded dinner thanks to a generous helping of broccoli in the mix.
Cheddar, Ham and Egg Casserole
How should you start your weekend? With vegetables, sweet deli ham and nutty whole-wheat English muffins bound together by a creamy, cheesy custard. The chefs at Food Network Kitchen managed to seriously cut the fat by using a mix of eggs and egg whites, and reduced-fat milk instead of half-and-half or cream.
Breakfast Casserole
Then again, healthy cooking doesn't always mean using low-fat products. The full-fat cheddar and Parmesan in this easy-to-make casserole are so satisfying that a little goes a long way. Save it for a cozy weekend brunch, or the next time you're craving breakfast for dinner.
Healthy Squash and Kale Casserole
This veggie-packed, low-calorie casserole uses a combination of full-fat Swiss and Parmesan, proving once again that a little goes a long way by cutting down on the fat without sacrificing flavor. Serve with a light green salad on the side to round out the meal.
More posts from Emily Lee.
Similar Posts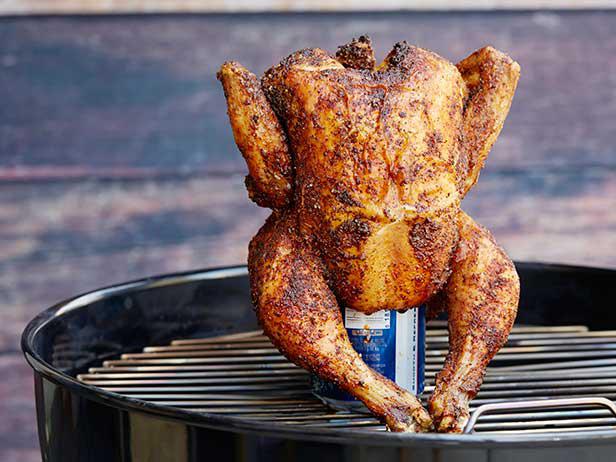 This clever grilling technique is easy enough to perfect even on your first try making it....