This is it: The ultimate, every-kid-likes-it list of crowd-pleasing recipes you'll want to add to your rotation for 2016. Featuring fresh takes on classic kid favorites like chicken, and mac and cheese, each recipe is kid-tested and full of fresh ingredients, yet still easy enough for busy parents to prepare.
Easy Tomato Soup with Grilled Cheese Croutons
Ina Garten has a match made in heaven with this dish featured in Food Network Magazine. Even kids who aren't into soup will love fishing a crouton out of her zesty tomato soup … if it happens to be a tasty bite of grilled cheese sandwich.
Honey-Mustard Chicken
If I had one recipe to suggest to beginner cooks, this would be it — so simple, so delicious. (And if I had one tip to pass along with it? Double the easy recipe and save half for another night.)
Simple Perfect Enchiladas
Gooey cheese, tangy sauce and ground beef all rolled together in one mouthwatering dinner. When The Pioneer Woman calls a dish perfect, you know it's the real deal.
Perfect Roasted Chicken with Vegetables
With a table full of small kids, we usually get at least two dinners out of every meal, but not with this one. Every last juicy carrot, every bite of chicken and every potato dripping in pan sauce is long gone before anyone even thinks of negotiating for dessert.
Cheesy Eggs-in-the-Hole with Bacon
You can never lose with breakfast for dinner. Especially when "breakfast" is a crispy piece of toast that just happens to have an egg perched the middle and is, of course, topped with cheese and bacon.
Slow-Cooker Pulled Pork
Throw a pork roast into the slow cooker in the morning and shred it at the end of the day when you're ready for dinner. Slather the whole thing in BBQ sauce and serve over buns — or serve that pork as is. It's that good.
Cheeseburger Hand Pies
If you can fry up a little ground beef, you can prep this showstopper in minutes. It's all that flaky puff pastry that makes the whole thing sing.
Chicken Tetrazzini
Chicken plus noodles? "Yes and yes, please!" said every kid ever. You can even make this dish from Giada De Laurentiis ahead of time and store it in the fridge — or freezer — until you're ready to throw the whole pan in the oven.
One-Pot Macaroni & Cheese
The ooey-gooey cheese slathered over pasta is for kids, and the one-pot part is for parents. Both of you will love it.
1-Hour Bolognese Sauce
Don't stop reading yet! Sixty minutes may sound like a long time for dinner, but that beautiful traditional Bolognese actually takes hours (and hours). This quickie version captures so much flavor — and tastes so good with a swirl of pasta — that your minions will not only never know the difference, but will even ask for two bowls.
Trisha's Chicken Tortilla Soup
All the flavors of a taco in a hearty and satisfying soup — one that can be prepped ahead and even frozen before cooking. With genius shortcuts like adding a cup of salsa, this one from Trisha Yearwood should be in your weeknight repertoire from here on out.
20-Minute Pork Tenderloin with Balsamic Vinegar & Olives
This meat is so tender, with such rich and tangy flavor, that even if this flavor combination is new to everyone at your table, in the end the only question will be who gets the last olive on the platter.
Lemon Chicken Strips
These are the most-lemony chicken strips you'll ever have. They also happen to be the simplest. Marinade, grill, enjoy.
Sausage & Spinach Over Rice
There are few magic words that have more power over parents than "15-minute dinner." That's just what this healthy and satisfying dish is, and one that each of my four kids loves.
Chicken Quesadillas
Crispy tortillas stuffed with chicken and cheese are hard for kids (or, let's face it, anyone) to resist. That's what makes The Pioneer Woman's quesadillas such a shoo-in for dinner success. And if you happened to use rotisserie chicken instead of cooking your own, that would work out as well!
Easy Swedish Meatballs
It takes only a handful of pantry staples to pull this one off, but don't let that fool you. This hearty winter dinner classic is one our kids ask for over and over (and over) again.
Charity Curley Mathews. Mom to four small kids from age 1 to 6. Contributor to InStyle, Huffington Post, eHow. Founder of Foodlets.com: Real Food for Babies & Kids. Perpetual wiper of the counter.
More posts from Foodlets.
Similar Posts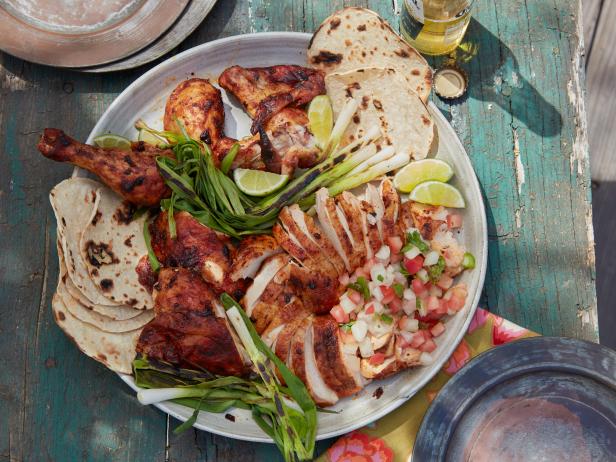 A little preparation means you can enjoy cookouts as much as your guests....