While decking the halls and tearing open gifts are one person's way of spreading holiday cheer, serving friends and family festive food is another's. But when guests are juggling their mulled cider in one hand and a loaded plate in the other as they're schmoozing their way through a holiday party, who has room for a fork and knife? If you're welcoming guests this season, stay away from unwieldy appetizers in favor of these one-bite, hand-held appetizers that are showstoppingly elegant.
Sure, you could bake a triangle of Brie until it oozes and melts after some time in the oven, but trust us when we say this recipe is an easier, smarter approach. Instead of wrapping the whole wedge in flaky phyllo dough, serve One-Bite Baked Brie with Grape-Pecan Compote in phyllo cups for a modern, mini presentation that's easier for you to make and easier for your guests to eat.
Doesn't wrapping things in bacon sound like a lot more fun than wrapping presents? These Bacon-Wrapped Stuffed Figs are a sweet, updated take on the retro bacon-wrapped water chestnut bite. These one-bite creations have it all: They're crispy, salty and smoky on the outside, with a layer of sweet fruit and a core of creamy cheese.
When you grab your next shrimp by the tail, do it without a dunk of cocktail sauce for once. Think of these Cumin-Roasted Shrimp with Green Chile Cocktail Sauce as a modern spin on the classic app that can be served hot, chilled or at room temperature, which is a host's absolute dream.
Sliced up so guests can grab and go, this easy-to-make Puff Pastry Pepperoni Pizza Roll brings everything you love about pizza into store-bought puff pastry bliss. Double the recipe and you'll be party- or potluck-ready in no time.
Follow Food Network Magazine's lead and skewer Swedish Meatballs and crunchy pickled cucumber together for an impressive hand-held starter. One bite is all it takes to get the contrasting textures of the fresh, crunchy, vinegar-spiked cucumber and the crispy, fried and slightly sweet meatball.
Get more holiday appetizer recipes from our friends:
The Lemon Bowl: 5-Ingredient Pizza Skewers
Feed Me Phoebe: Brussels Sprout Latkes with Anchovy Aioli
Creative Culinary: Blue Cheese, Walnut, and Port Wine Pâté
Napa Farmhouse 1885: Avocado Crostini with Oaxacan Sesame Sauce
Red or Green: Chipotle Ranch Dip
Healthy Eats: 5 Lighter Finger Foods for Your Holiday Soiree
Elephants and the Coconut Trees: Baked Falafel and Hummus
The Mom 100: Creamy Avocado Dip
The Wimpy Vegetarian: Jalapeño Poppers Gougere
Daily*Dishin: Peppadews Stuffed with Mozzarella Fresca
Taste with the Eyes: You Don't Have To Be Jewish To Love Latkes
More posts from Allison Milam.
Similar Posts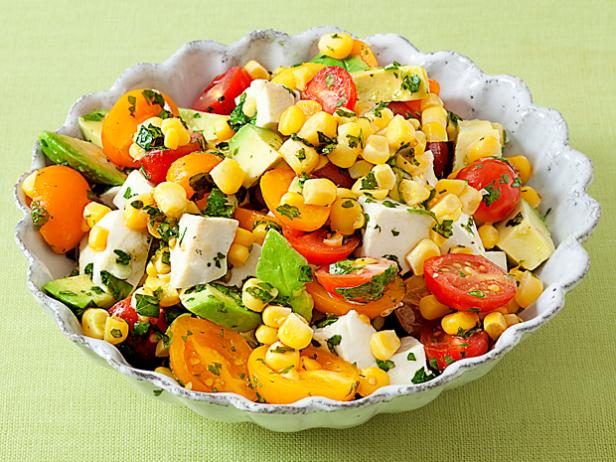 When it's too hot to cook, look no further than these tomato-focused recipes....