3 of a Kind checks out three places across the country to try something cool, new and delicious.
Just when you thought you'd had your fill of savory mash-ups, the restaurant world jumped into the game with a new, hybrid take on classic cravings. Whether in burger, waffle or taco form, these finds prove that sometimes two dishes together are indeed better than one.
Chicken-Fried Stuffed Cheeseburger at Root & Bone, New York City
Root & Bone's general manager, David Olson (a Southerner), drew on his fondness for chicken-fried steak to come up with this Juicy Lucy-style cheeseburger hybrid. To create the dish, a massive pimento-cheese-stuffed beef patty is tossed in breadcrumbs and fried (sealing in all the juiciness), then piled high with toppings — a drizzling of spicy Southern aioli, pickled mustard-seed-and-Fresno-pepper relish and classic LTOP (lettuce, tomato, onion and pickle) — before being sandwiched into a squishy Martin's bun. Though the burger is no longer available, the restaurant is playing around with alternative off-menu dishes that will pop up soon.
Doswaffles at Juhu Beach Club, Oakland
After spying a waffle maker on her hunt for an electric crepe griddle, chef-owner Preeti Mistry was inspired to give dosas (South Indian crepes) the waffle treatment and make them the star of her brunch menu. Mistry makes the batter the traditional way, soaking rice and lentils and then allowing them to naturally ferment for two days. When dosas are cooked in a waffle maker, their interior retains a soft sponginess like an idli (a thicker-style dosa), while their signature crisp exterior is preserved. They're a perfect vehicle for showcasing Indian-inflected sweet-savory combos, like masala potatoes and coconut chutney, or Mistry's take on chicken and waffles: green chile fried chicken paired with black pepper butter and spicy syrup. Up next? Doswaffle grilled cheese sandwiches.
Shrimp & Grits Tacos at Treylor Park, Savannah
At funky cocktail bar-restaurant Treylor Park, owner Trey Wilder's menu is all about classic Southern dishes with a comfort-bar-food twist. For example, the beloved Savannah low-country staple of shrimp and grits is reborn as a taco masterpiece. To retain the grits' characteristic creaminess without the sloppy consistency, cooked stone-ground grits are folded with a shredded cheddar-mozzarella blend and jalapeno-cumin-spiked cream cheese, chilled in the fridge and then cut it into bite-size cubes. Jumbo shrimp get a coating of seasoned flour, amped up with Old Bay and Lawry's barbecue seasoning, before joining the cheesy grits cubes for a dip in the fryer. The dynamic duo is nestled into warm corn tortillas and then drizzled with chile aioli and spinach-cilantro chimichurri, resulting in an irresistible crispy-creamy-spicy-savory hand-held mouthful.
More posts from Layla Khoury-Hanold.
Similar Posts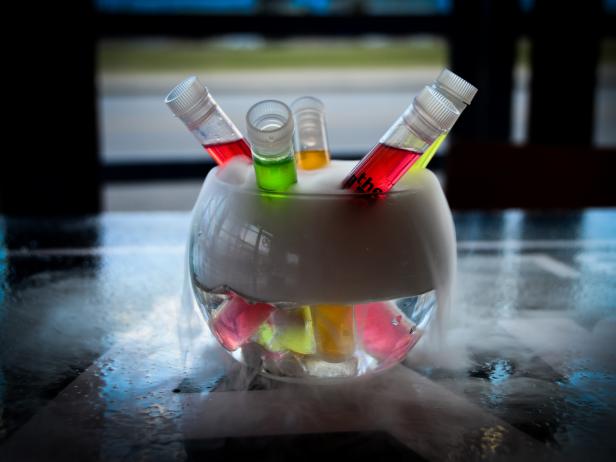 To celebrate the total solar eclipse, restaurants and bars are adding a bit of starry magic to their menus with items inspired by this rare celestial ...