Odds are you've not liked Brussels sprouts at some point in your life, whether it was when you were a kid or it lasted into your adulthood. With its slightly bitter flavor and sturdy structure, this multilayered green veggie can be a tough sell — but not when cooked like this. These top-rated, fan-favorite recipes prove that Brussels sprouts can be addictively delicious when they're cooked correctly and with a little love, especially now that they're in season.
You've heard it before: Sometimes the simplest things in life are also the best. A 5-star recipe with a whopping 500 reviews, Ina Garten's Roasted Brussels Sprouts don't call for any newfangled ingredients to achieve their beautifully blistered, tender state. It just takes a good drizzle of olive oil, plus some salt and pepper, and roasting on high heat for Brussels sprouts to reach pure, unadulterated perfection.
Bringing the smoky, salty vibes of bacon into your Brussels sprouts side is a sure-fire way to get your family to go back for seconds of vegetables. Sunny Anderson's 5-star Pan-Roasted Brussels Sprouts with Bacon recipe boasts more than 100 reviews, and the dish comes together with just four-ingredients: Brussels sprouts, bacon, chopped onion and butter. The melted butter and the fat from the bacon work together to create an indulgent, unforgettable sauce.
Even the staunchest Brussels sprouts haters won't be able to resist Food Network Magazine's Brussels Sprouts Gratin, with its cheesy, creamy sauce and buttery breadcrumb topping. It's no wonder this veggie side has 5-star reviews.
For the most-seasonal salad of fall, go for Nancy Fuller's Kale and Brussels Sprouts Salad. These two powerhouse ingredients come together with pecorino cheese, toasted pine nuts and a bright lemon-mustard dressing for the most-refreshing way to get your seasonal-sprout fix.
Brussels sprouts also do well when they're joined by other seasonal vegetables, and Giada De Laurentiis' mixed side dish is edible proof. She brings the hearty green vegetable into her colorful Roasted Potatoes, Carrots, Parsnips and Brussels Sprouts, complete with Italian seasoning. With more than 130 reviews and 5 stars, it's the perfect side dish when you can't pick just one veggie.
Get even more Brussels sprouts recipes from our friends:
Feed Me Phoebe: Quinoa Brussels Sprout Gratin with Smoked Cheddar
Homemade Delish: Brussels Sprout and Bacon Pizza
Creative Culinary: Fried Brussels Sprouts with a Sriracha and Honey Glaze
Napa Farmhouse 1885:  Roasted Brussels Sprouts & Pesto Pizza
Red or Green: Spicy Roasted Brussels Sprouts Salad With Avocado & Pomegranate Seeds
Taste with the Eyes: Brussels, Bacon, Balsamic
TasteBook: Lemony Roasted Brussels Sprouts with Bacon
Healthy Eats: 6 Ways to Never Get Bored of Brussels Sprouts
The Mom 100: White Bean and Roasted Cauliflower Spread with Sauteed Brussels Sprouts
More posts from Allison Milam.
Similar Posts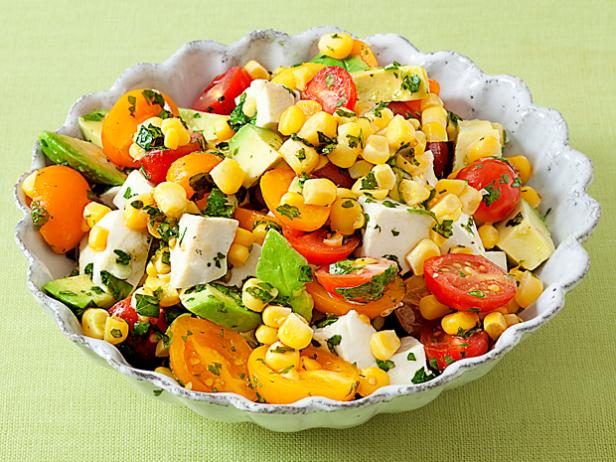 When it's too hot to cook, look no further than these tomato-focused recipes....