With as many as one in three people avoiding gluten these days, it's more than likely that one of them will end up at your Thanksgiving table. Luckily, this special diet is relatively easy to accommodate. Lots of classic turkey-day dishes are naturally gluten-free, while many more are easily made to fill the bill with just a few simple modifications that remove the gluten without sacrificing character or flavor — now, that's something everyone can be thankful for!
Let's start with the naturally gluten-free fare. Gluten is a protein found in wheat, barley and rye that for some people causes allergic reactions and gastrointestinal distress. Gluten is not found in meat or poultry; therefore turkey, such as this 5-star classic from Good Eats or Ina Garten's showpiece classic bird, contains no gluten as long as any accompanying bread-based stuffing is prepared outside the bird.
With the main course covered, let's move on to that most-important part of the Thanksgiving meal — side dishes! The good news is that many vegetable dishes are gluten-free as long as they don't contain flour, breadcrumbs, crackers or other items that contain wheat. However, beware of some not-so-obvious ingredients that do contain gluten, such as soy sauce, beer, prepared salad dressings, some broths and bouillon cubes, self-basting turkeys and — sorry, green-bean casserole lovers — packaged french-fried onions. For a roundup of our best gluten-free Thanksgiving sides, including an updated green bean casserole, mashed potatoes, roasted squash and more, check out this gallery.
But there's no way around it — a few Thanksgiving-meal superstars are definitely giant wheat-filled gluten fests — and can you imagine hosting a feast without stuffing, gravy, or pie? Not a chance! Luckily, a few adjustments will cut out the gluten and your guests will be none the wiser. For stuffing, use gluten-free bread in this classic recipe.
Similarly, you may substitute homemade, flour-free cornbread in your favorite cornbread stuffing recipe. We can pretty much guarantee that no one will notice.
Gravy seems like it might prove a little trickier, as most gravies are thickened with tried-and-true wheat flour. But as our Food Network stars and experts from Food Network Kitchen can attest, there are many easy ways to achieve flour-free thickening, including arrowroot or cornstarch, pureed vegetables or rice — or a spoonful of mashed potatoes (genius!).
Now on to the finale. It's smart hosting to have at least one gluten-free treat on your dessert buffet this holiday. But pies and cakes contain flour, and that's all there is to it, right? Wrong! Try substituting our gluten-free pastry dough in your favorite pecan or pumpkin pie recipe. For cakes, try a purchased gluten-free flour blend or make your own. Here's a sampling of our favorite gluten-free dessert recipes.
Get the Recipes: All Our Favorite Gluten-Free Thanksgiving Dishes
More posts from Regan Burns.
Similar Posts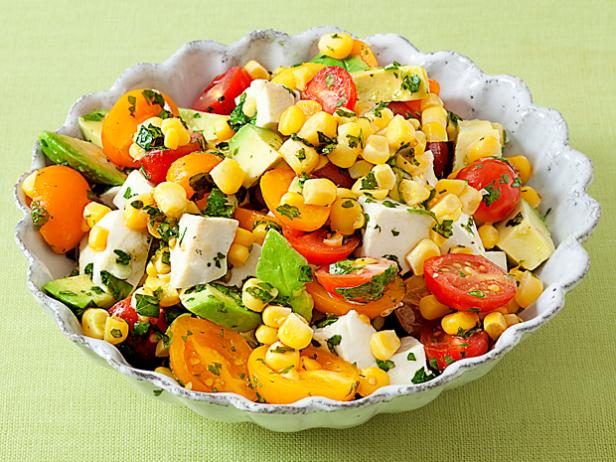 When it's too hot to cook, look no further than these tomato-focused recipes....