By Sara Levine and Erin Hartigan
Pay no attention to outsiders' snickers about steakhouses and lobbyist lunches: Washington, D.C., is a dining destination. The city's international scene, expansive growth and proximity to the Chesapeake and Mid-Atlantic farmlands and watersheds have made it an irresistible place for chefs to set up shop. Both homegrown talent and national names have contributed to D.C.'s restaurant boom, which shows no sign of slowing as new neighborhoods become food hot spots every year. We cut through the red tape and show you where to start.
Check out the full gallery for more top D.C. dishes.
Hot Spot: Rose's Luxury
If you line up outside a restaurant at 4 p.m. and don't end up eating dinner until after 8, it had better be worth it. Despite all the hype Rose's Luxury has received since it opened in 2013, it still delivers, every time. There are only a few menu standbys at chef Aaron Silverman's charmingly quirky Barracks Row spot, which means there's always something new and exciting to sample, even for regulars. Rose's cuisine is boundless: Silverman dabbles in Asian (an outstanding pork-and-lychee salad is one of those few menu fixtures), Italian (in a town spoiled for solid Italian restaurants, his cacio e pepe is the best around), Southern (soft-shell crawfish with Tabasco butter) and beyond. Not many chefs can make all that work together, but in his hands it's a flavorful, eclectic and fun dinner party, and everyone wants an invite.
Burger: Garden District
There are a lot of good restaurant burgers in the District, but Garden District's may be the only one that masters the spirit of the backyard cookout. Open only in warmer seasons, the Logan Circle beer garden is perfectly suited to maximize summer burger appreciation, with sunbaked picnic tables, icy steins of American and German craft beers, and the occasional pie special for dessert. The burger starts with a well-seasoned, hand-formed patty, which Chef Tad Curtz tops with a thin cap of sharp cheddar, ripe tomato, Thousand Island-style sauce and dill pickles, which the kitchen cuts by hand to ensure uniform crunch. The whole lot goes into a buttered, griddled bun that manages to just barely hold itself together, much like the typical family cookout.
Power Lunch: Fiola Mare
When there's a $50 plate of (lobster) ravioli on the menu and not an empty seat in the house, you know you're in a D.C. power spot. Though the Fiola Mare dinner is exceptional, we like Fabio and Maria Trabocchi's seafood-focused Italian dining room best at lunch, preferably with a window seat overlooking the Georgetown waterfront and the Kennedy Center. If you're dining sans expense account, zone in on the Presto! lunch menu at the bar, which offers your choice of an entree (think spaghetti with clams or grilled calamari with salsa verde) and a cocktail for $22. Or avoid that too-stuffed-to-go-back-to-work predicament with the lightened-up Maria lunch menu, just $28 for three courses. But if you're on someone else's dime, we'd spring for that decadent ravioli or the simply grilled whole branzino.

Iconic Dish: Rasika's Palak Chaat
Though many would cite the half-smoke as the District's most-iconic dish, no single sausage could inspire the passion of this inventive spinach starter. Included on countless best-of lists and ordered more frequently than any other dish at the hip, modern James Beard Foundation Award-winning Indian destination, the Palak Chaat is a tango of textures and flavors. The beloved small plate starts with crackle-crisp shards of fried spinach below a fluff of yogurt and tamarind with diced tomato, red onion and cilantro. Though it's meant to be shared, insiders know that ordering one per person is the best way to keep everyone happy, even at a table packed with Cauliflower Bezule, anise-scented Black Cod and other enticements.
For more top Washington spots, including our picks for best late-night dinner, steakhouse and ice cream, check out the full gallery. Then tell us: What D.C. dishes earn your vote?
Photos courtesy of Wilson Andrews, Greg Powers, T. Tseng
More posts from FN Dish Editor.
Similar Posts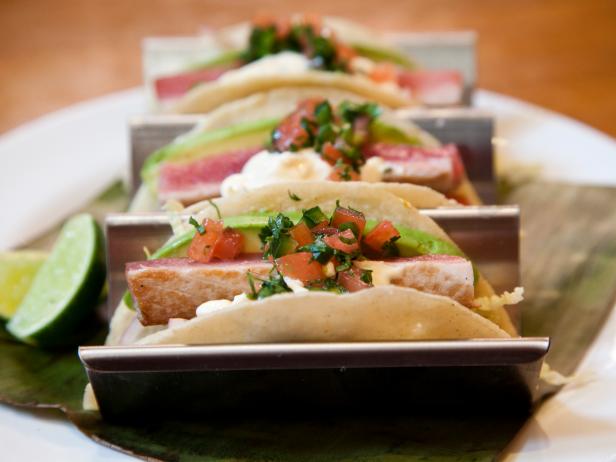 Hip spots are shaking up Magic City's Mexican-food scene with bold fillings and housemade tortillas....