On tonight's third installment of the five-part Chopped Teen tournament, four teens entered the hallowed kitchen to try their luck at the mystery baskets. Many of them have practiced in advance, even training with culinary instructors. But nothing could truly prepare them for the pressure and the time constraints. Nevertheless the teens took the competition in stride, and ultimately one of them rose to the top with three courses that earned a place in the finale, where he or she will compete for a chance to win the $25,000.
The Baskets
Appetizer: vegan crispy chicken legs, golden beets, a tortilla chip lunch kit, pea leaves
Entree: venison roast, butternut squash, fruity cereal macarons and okra
Dessert: walnuts in honey, a delivery box of assorted cookies, plums, French toast cereal
Elimination Details
First round: Jarren
Second round: Eliza
Final round: Allison
Winner: Alexina
Judges: Scott Conant, Alex Guarnaschelli, Chris Santos
More from this Episode
Top Moments (Photos)
Burned and Chopped (Video)
When it came to finding an approach to the mystery basket ingredients, Alexina knew from the start she would be drawing on what she knew: her heritage with recipes and techniques she learned from her Greek family. And her approach didn't let her down. In her appetizer she presented a tzatziki, and in the entree round a bamia — both Greek dishes that didn't fail to impress the judges. Although they found her plating to be lacking, the judges couldn't get over Alexina's control over flavor. In the dessert round she depended on one of the only cookie recipes she knew, but it was enough to put her in the lead, earning her the win and the third spot in the finale on Sept. 22.
How does it feel to win today?
Alexina: It feels really good. I'm so excited.
And knowing that you're going to the finale, do you have any expectations? Are you nervous at all?
Alexina: I'm not really nervous. When the judges were giving me advice — now I can take that advice and bring it to the finale.
Did you practice before coming on the show?
Alexina: Yeah, I practiced what I didn't know.
What kind of skills did you work on?
Alexina: Like, chopping. I already knew how to saute, so it was really just chopping.
Have you taken, or do you take, any culinary courses?
Alexina: I'm from Florida, so I took a culinary course there. … I had a class where … you would cook and then you would get graded on your food and all that, and also I took different kinds of cooking classes outside of school.
Was it any different competing here from what you've imagined or seen on TV?
Alexina: It was kind of like — when the appetizer round, it was kind of hectic, when I saw all the ingredients. But by the entree round I was actually pretty confident.
What would you say was the hardest basket for you today?
Alexina: I think the appetizer was kind of hard because I didn't know about the vegan legs and I didn't know that there was a skewer in the middle — so that was hard. And the entree was actually pretty easy because I knew half of the ingredients. I used the okra before and the butternut squash. And the dessert was kind of hard because … I'm not a … person that does … fancy, fancy desserts, but … I did great.
On your entree, Alex said that when she saw it, she wasn't really sure about it until she tasted it, and then she got really excited about it. Do you think you would have done anything differently on how you plated?
Alexina: Well, now that I think about it, I would, like, combine them and not leave some of the ingredients side by side, because that's what she said I didn't do is, I didn't, like, incorporate all of the ingredients together.
Is that something you think you're going to work on for the finale?
Alexina: Yeah, yeah. That's what I'm going to.
It was interesting to see your plating technique: You finished one plate before you did the remaining three. What was your reason for doing that? Were you testing things out?
Alexina: Well, I was trying to test out, like, how many pieces of meat I should put on, how many pieces of everything I should put on, because I wanted it to look similar so I didn't get points off for that. So I plated one and then I looked at the rest and was like, "How many should I put on each?" So that's how I did it.
Before going into the dessert round, did you have anything in your mind that you definitely wanted to make? Any recipes?
Alexina: Well, I was thinking of doing ice cream, but then you had to make this crazy custard, so I was like, "I'm not going to do that." And then I was thinking of doing a Greek dessert, but they didn't have one [of the ingredients], so then I was like, "Oh … what am I going to do now?" So I'll just do cookies and I'll wing it, because I'm not really too big on desserts. Because I know cakes and brownies take a while to cook, so I wanted to have more time to plate it and everything.
How did you get interested in cooking in the first place?
Alexina: Well, my grandmother and my great-grandmother like to cook, so when I was younger I used to watch them and that's how I got started. And my grandmother owns a Greek diner, so by looking at the people and the chefs in the back, and my great-grandmother and my grandmother, I thought that I really liked cooking. And I incorporated their work … and made dishes out of that, and they've been successful, so I'm happy about that.
Do you think you want to become a chef?
Alexina: Yeah, I want to be a personal chef for people with disabilities. … I believe that everybody … deserves to live a healthy lifestyle at a low cost, so that's what I want to represent for them.
So you cooked with a Greek influence today, which we saw mostly in the first and second rounds. Do you think that's the direction you would take when you cook?
Alexina: Yeah, because I'm pretty familiar with those recipes. I'm familiar with Italian, but I tried to stick to my guns and what I knew, and what I didn't know, I just left that aside. So I just stuck to my heritage and my culture, so that's how I decided to do, like, the Greek dishes.
Do you think we'll see more of that in the finale?
Alexina: Probably with the different ingredients, because I just thought that those would be easier because I know — I fluently know how to make all the Greek dishes, so I just stuck to my guns.
Do you have any strategy going into the finale? Do you have any ideas of what you'd like to accomplish with your dishes?
Alexina: Well, I just have to remember to season because that's the key to everything. I seasoned pretty good on the deer, but I could've used more seasoning, so I'm going to practice [that] … as well as putting everything together and not leaving them separate.
What do you think your family and friends will say when they see you on TV?
Alexina: They're going to be really excited. When I did my bio pack, like, I had my cheer team do it, and they were so excited for me — and I'm so excited to be on Chopped.
Tune in for Part 4 of Chopped Teen Tournament on Tuesday at 10|9c.
More posts from Joseph Erdos.
Similar Posts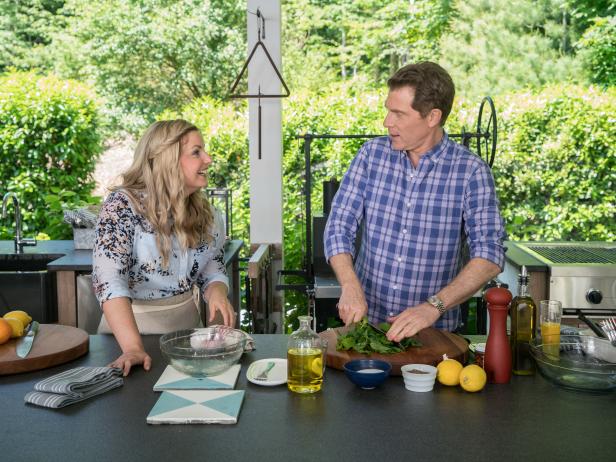 Get the latest details on the all-new series, The Bobby and Damaris Show....