3 of a Kind checks out three places across the country to try something cool, new and delicious.
Pancakes aren't just for breakfast anymore. These fresh takes on flapjacks flip the sweet standby into a savory dish, swapping in vegetables for fruit, with varied and extremely creative toppings.
Alden & Harlow, Cambridge, Mass. 
Inspired by a dish Chef Michael Scelfo's mother made, pickled Verrill Farm corn cakes have been on the menu since this Cambridge, Massachusetts, restaurant opened early last year. But where his mother used canned creamed corn, Scelfo elevates his version by using local corn and heirloom cornmeal. The cakes also incorporate the flavors and textures of late summer: shishito peppers and corn, popcorn for texture, buttermilk for creaminess, and local maple syrup.
State Bird Provisions, San Francisco  
At State Bird Provisions in San Francisco "pancakes and toast" form an entire category on the dinner menu. While some of the pancake offerings rotate, the sourdough pancakes with sauerkraut, pecorino and ricotta are a staple, inspired by a late-night snack Chef Stuart Brioza used to make, as well as by Korean pancakes with kimchi. Other pancake combinations include beef tongue and horseradish-buckwheat pancakes, heirloom tomato Cabot cheddar whole-grain pancakes and uni pancakes.
Santina, New York City
At this "coastal Italian" restaurant in New York City, cecina from Tuscany are available at breakfast, brunch, lunch and dinner. The thin pancakes are made with chickpea flour cooked over super-high heat in a cast-iron crepe pan. The savory topping options vary from one meal to the next; at dinner they include finely chopped tuna tossed in Calabrian chile paste with capers, lemon-pickled cucumbers, parsley, mint and celery, as well as raw, shaved nebrodini mushrooms tossed with rosemary and olive oil.
Photos courtesy of Kristin Teig, Dylan + Jeni and M. Alexander Weber
More posts from Amy Sherman.
Similar Posts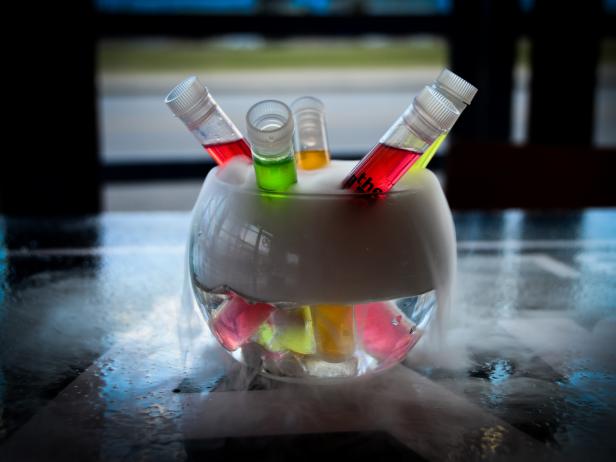 To celebrate the total solar eclipse, restaurants and bars are adding a bit of starry magic to their menus with items inspired by this rare celestial ...