The chefs on Camp Cutthroat — all returning competitors — were surely expecting to endure sabotage in the great outdoors. But nothing could have prepared them for "Bob the Bear," as host Alton Brown called the oversize, furry and downright diabolical bear that invaded the campsite in the first round. As Chef Emmanuel worked to hoist his foods into a tree, the bear showed him little mercy, trying furiously to knock the products from the chef's grasp.
On tonight's brand-new installment of Alton's After-Show, judge Simon Majumdar was introduced to "Bob the Bear," first as a ferocious creature — and then as a dance partner. That's right: While Alton demonstrated how Chef Emmanuel had to haul his food up a tree with the help of a bucket, Simon and the bear danced a few soft, smooth swings arm in arm. As might be expected from a wild animal like this, Bob had a clear agenda for how he wanted the dance to go and yelled "I lead! I lead!" to Simon. "The bear wants to lead? The bear can lead," Simon said simply, letting his dance partner take charge.
Click the play button on the video above to watch this scene unfold, then catch Simon and Alton taking turns in an archery shootout.
Tune in to Camp Cutthroat every Wednesday at 9|8c, and don't miss Cutthroat Kitchen on Sundays at 10|9c.
More posts from Maria Russo.
Similar Posts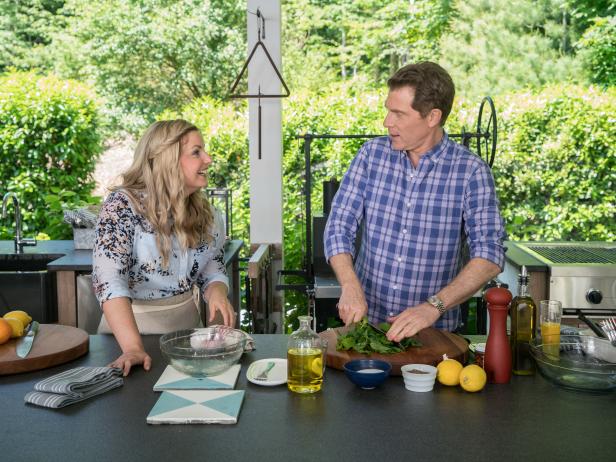 Get the latest details on the all-new series, The Bobby and Damaris Show....