Beach trips, backyard cookouts, outdoor movies and other excursions are the most-often-evoked examples of "summer bucket list" material. But these summery activities aren't the only things you should be checking off during the warm-weather months. For a lot of us, summer is defined by the food we eat —which, oftentimes, is not food we can eat much of at any other time of year. Before summer's end, be sure to knock these eight non-negotiable, must-eat frozen treats off your list. When it's all said and done, will you have put your summer to good use?
8. Ice Cream Sandwiches
If a piping-hot burger off the grill is the only kind of sandwich-esque bite you've munched on this summer, it's about time you savored a sweeter take. Don't let summer pass before you assemble one like Giada De Laurentiis' Frozen Banana Ice Cream Sandwiches, which feature cookies coated with chocolate-toffee candy bars.
7. Ice Cream Freezer Pops
Devouring your ice cream directly from the pint carton might work when it's just you and the container, but summer parties call for an elevated presentation. Use paper cups as molds for Ree Drummond's Ice Cream Freezer Pops for an easy summer party dessert on a stick.
6. Frozen Fruit Pops
Arguably more refreshing than even a glass of old-fashioned lemonade, fruity ice pops should be downed stick after stick all summer long. Before it's too late, fill up some molds for homemade Honeydew Melon and Cilantro Ice Pops.
5. Ice Cream Sundae
Though you're likely already countering the sky-high temps with ice-cold (yet melting) ice cream, assembling your own sundae is a way to celebrate summer that's straight out of childhood. Go for Ree's Chocolate Chip Caramel Ice Cream Sundae, which goes big with hot, freshly baked cookie squares, ice cream, hot fudge and sticky caramel.
4. Granita
Icy-cold like shaved ice, granita is an Italian semi-frozen dessert that is sure to cool you down. It's worth trying, if you haven't already been relying on it all summer long. Freeze up Food Network Kitchen's healthy Watermelon Granita — made with just watermelon, sugar and lemon juice — before raking the frozen finished product and serving in cups.
3. Ice Cream Cake
Especially if you have a birthday on deck this month, a towering DIY ice cream cake is the way to go. Here's how to make a cookies-and-cream version.
2. Ice Cream Floats
Summer livin' should be easy, and an old-fashioned float is just that. For a true taste of the soda fountain, Guy Fieri pours cherry-vanilla soda over scoops of chocolate ice cream for his cherry-topped Chocolate Malted Cherry Float.
1. From-Scratch Ice Cream
A true lover of frozen treats doesn't get every ice cream fix by way of a pint. In fact, you know you're really serious about frozen treats when you make your own ice cream. Here's how to make your own cookies-and-cream flavor.
Get more frozen treats from our friends:
The Hungry Traveler Blog: Banana Coconut Paletas
The Lemon Bowl: Chocolate Peanut Butter Magic Shell
Creative Culinary: Strawberry, Lemon and Basil Sherbet
The Heritage Cook: Grilled Plums and Port Parfaits (Gluten-Free)
TasteBook: Triple Chocolate Mousse Pie
Dishin & Dishes: Peanut Butter Cup Ice Cream
Homemade Delish: Jalapeno and Peach Gelato
Napa Farmhouse 1885: Healthy Chocolate & Greens Fudgsicles
Red or Green: Ice Cream Sandwiches with Frozen Yogurt
The Mom 100: Easy Chocolate Mousse
Weelicious: Fruity Lemonade Ice Pops
Taste with the Eyes: Figs and Sabayon à la Julia Child
Healthy Eats: Puddings, Pops and Pies: 7 Desserts Best Served Cold
In Jennie's Kitchen: Seven Sensational Frozen Treats
More posts from Allison Milam.
Similar Posts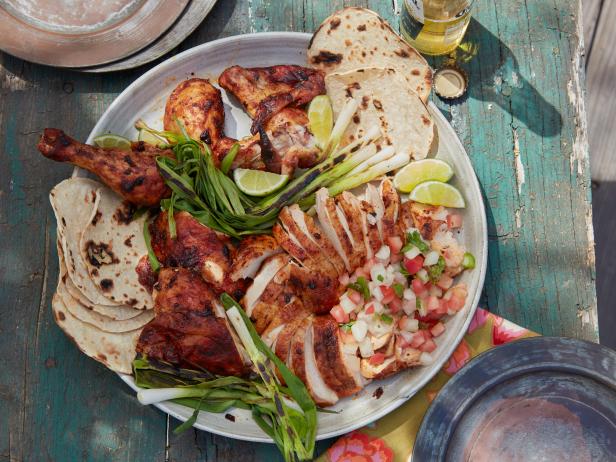 A little preparation means you can enjoy cookouts as much as your guests....