Tomatoes aren't like other types of in-season produce that we lose our minds over when they reach their peak (we're lookin' at you, peaches). We eat tomatoes year-round — no matter the season — and we rely upon shelf-stable staples like canned plum tomatoes, tomato paste, sun-dried tomatoes and more to get us through. Right now, however, tomatoes are juicier and sweeter than ever, and with great bounty comes great responsibility. A true tomato whisperer and lover of all things tomato — a champion of tomato cookin' — holds these 10 peak-season values true all season long.
1. Makes a Different Kind of Pie
Countless times, you've beckoned the delivery dude or even made your own pizza pie from scratch. But now that tomatoes are in their prime, slathering a pie in from-the-jar marinara would be a travesty. Do as Food Network Magazine does and make a picturesque Heirloom Tomato Pie (pictured above) that would never dare show up in a cardboard pizza box. With a buttery cornmeal crust, fresh herbs, Manchego cheese and mozzarella, this elegant beauty is crowned with a gorgeous sunset-spectrum of mixed heirloom tomatoes.
2. Prioritizes Tomatoes Over All Else — Even Dessert
When the need for a cobbler arises, with drop biscuits and all, fight your berry-focused tunnel vision with the promise of a cobbler with a savory leaning. Food Network Magazine's Tomato Cobbler will cast aside all your sweet-tooth ambitions when it leaves the oven bursting with ruby-red tomatoes and golden-hued biscuits.
3. Says No to Cans
Even when it's made "from scratch," the classic tomato soup is derived from canned tomatoes from the very start. But not this one. Ina Garten's Cream of Fresh Tomato Soup comes to fruition thanks to 4 pounds of vine-ripened tomatoes.
4. Knows Tomatoes Are Really Fruit — and Treats Them Like It
Though tomatoes often hang with the veggie gang, it's no secret that they are, in fact, a fruit. For once, treat tomatoes like the fruit they truly are by making a fruit salad hinging on tomatoes, peaches, plums and basil.
5. Goes for the Unexpected
Oftentimes, we'd be the first to say that mac and cheese, by its nature, needs nothing more than mac and cheese (plus maybe a buttery breadcrumb topping) to be at its peak. But then we met the Barefoot Contessa's Mac and Cheese. Instead of stopping where the rest of us would, Ina tops her ooey-gooey mac with refreshingly juicy tomato slices before laying on the breadcrumbs.
6. Goes the DIY Route, Even When the Jarred Equivalent Is a Thing
You could buy a jar of tomato salsa, but a true tomato whisperer would have no part in that. Melissa d'Arabian's homemade Grilled Tomato Salsa showcases grilled-until-charred Roma tomatoes, garlic and serrano chiles that are blended together to scoopable perfection.
7. Makes Them a Main Event
Like peppers before them, ripe tomatoes are just begging to be stuffed. Food Network Magazine's Sausage-and-Basil-Stuffed Tomatoes come with the pulp scooped from the tomato so that a hearty filling can be baked inside. That way, they're bulked-up and satisfying enough to be a main dish.
8. Brings Tomatoes Into Snack Time
Food Network Magazine proves you can make crispy, addictive Tomato Chips perfect for snacking, with a little help from your microwave. Take that, greasy potato chips.
9. Says "Potato Salad? What About Tomato Salad?"
Why do potatoes get all the attention, with boatloads of creamy potato salad serving as the time-honored staple at the backyard cookout? Now that colorful tomatoes are at their sweet peak, look to Food Network Magazine's Cherry Tomato Salad with Buttermilk-Basil Dressing to get your creamy cookout side fix.
10. Douses Pasta with From-Scratch, Never Jarred Tomato Sauce
Like tomato soup, a great many homemade tomato sauces start with canned plum tomatoes — and that's not a bad thing. But when tomatoes are ripe off the vine, they belong in Alton Brown's from-scratch Tomato Sauce, made with 20 Roma tomatoes.
Check out more tomato recipes from our friends:
The Heritage Cook: Rice and Cheese Stuffed Roasted Tomatoes (Gluten-Free)
The Lemon Bowl: 5-Ingredient Slow Cooker Beef & Eggplant
Homemade Delish: Sweet Tomato Jam
Healthy Eats: 7 Seasonal Uses for Fresh Tomatoes
Creative Culinary: Warm Tomato and Mozzarella Bruschetta 
Weelicious: Heirloom Tomato Salad
Dishin & Dishes: Cobb Salad with Homemade Roasted Onion Vinaigrette
Domesticate Me: 10 Totally Awesome Tomato Recipes
Swing Eats: Tiny Insalata Caprese
The Wimpy Vegetarian: Tomato and Swiss Tart
Elephants and the Coconut Trees: Tomato Pickle
Taste with the Eyes: Quiche with a Black Quinoa Crust, Heirloom Tomatoes, Spinach, Goat Cheese
Red or Green: Summer Pasta With No-Cook Tomato Sauce
Napa Farmhouse 1885: Heirloom Tomato & Crouton Casserole (Scalloped Tomatoes)
The Mom 100: Chopped Salad with Chicken, Tomatoes and Lemon Thyme Dressing
More posts from Allison Milam.
Similar Posts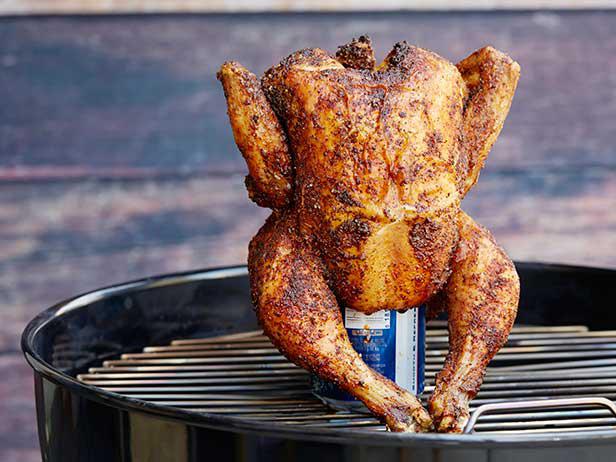 This clever grilling technique is easy enough to perfect even on your first try making it....