Once our burgers reach charred, juicy perfection on the grill, we tend to stack them high with all kinds of toppings. More often than not, they come with a layer of melting cheese on top. But that doesn't mean that burgers should always be built from the bottom up. Instead of laying cheese and other toppings on top as an afterthought, surprise your fellow burger eaters by stuffing your next patties at the core.
If you're grilling for a crowd, offer up burgers with a little variety. Trisha Yearwood's Cheese-Stuffed Burgers (pictured above) are stuffed with different cheeses, like pimento, mozzarella or blue cheese. Though they may be stuffed differently, they're all grilled to juicy perfection with an oozing cheesy center.
Guy Fieri's Killer Inside-Out Burger may look like a relatively naked burger, but a bite of this triple-meat winner tells a totally different story. It's packed with bacon, chorizo, onions and Swiss cheese, and polished off with homemade Worcestershire ketchup. Watch the video to see how he makes it.
When you make a burger like Sunny Anderson's, it comes stuffed with all kinds of good stuff. Her smoky and savory Bacon, Onion and Cheese Stuffed Burger may sound like a mouthful, but it takes only 35 minutes to make, from start to finish.
Even leaner turkey burgers are better when they're stuffed. Ellie Krieger's healthy Stuffed Turkey Burgers come loaded with roasted red peppers and part-skim mozzarella, and they can be made outside on the grill or in the broiler.
Give the American classic a Spanish spin with Food Network Magazine's Manchego-Stuffed Pork Burgers. The meat is extra flavorful, thanks to pimento-stuffed olives and spices that are blended into the pork.
Get more burger recipes from our friends:
Feed Me Phoebe: Greek Lamb Burgers with Mint Tzatziki
The Lemon Bowl: Filet Burgers with Tahini Garlic Mayo
Creative Culinary: The Canyon Creek Burger from Ted's Montana Grill
Healthy Eats: Beef and Beyond: 6 Reasons to Cook More Burgers
Weelicious: BBQ Chicken Burgers
The Wimpy Vegetarian: Crispy Mexican Black Bean Burgers
Homemade Delish: Stuffed Bleu Cheese Burger with Buffalo Sauce
The Mom 100: Buffalo Turkey Burger Sliders
Dishin & Dishes: Hatch Chile Salmon Burgers
More posts from Allison Milam.
Similar Posts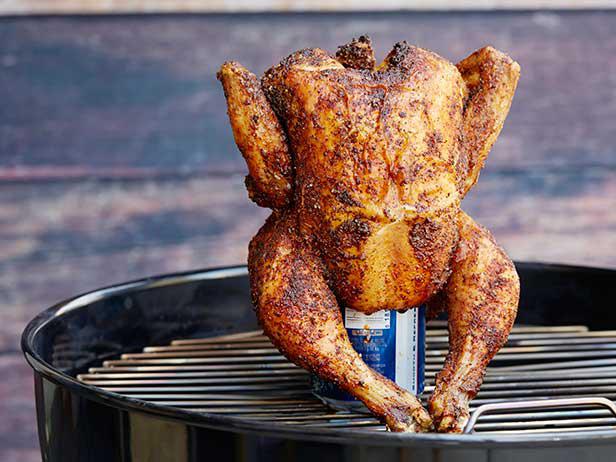 This clever grilling technique is easy enough to perfect even on your first try making it....