We've all heard the saying "When life gives you lemons, make lemonade." Before you cue the eye rolls, let me clarify: I'm not preaching a life motto. I'm preaching the splendor of lemonade — sweet-tart, thirst-quenching lemonade. Chilled with ice and freshly squeezed, it completes every summer picnic, barbecue or block party. Escape the summer heat with the refreshing beverage in its many forms — classic, fruit filled, slushy and more — with these simple recipes.
Classic
Since we're on a roll with the cliches, if it ain't broke, don't fix it. Equal parts sweet and tart, Ree Drummond's Perfect Homemade Lemonade (pictured at top) is your go-to lemonade for picnics, cookouts and more. The tried-and-true combination of sugar, water and freshly squeezed lemon juice is simple yet timeless — and guaranteed to please any crowd.
Sweet
You may find that you won't need as much sugar as you normally would when preparing a batch of Bobby Flay's Blueberry Lemonade, as the blueberries provide a touch of natural sweetness. The process is simple: Start by preparing a standard batch of lemonade, then strain the pureed blueberries through a medium-mesh sieve.
Fizzy
Vividly colorful and a little bit bubbly, Michael Chiarello's Muddled Lemonberryade is a sophisticated spin on the classic roadside drink, ideal for your next patio party. Top off each glass with a splash of club soda for a refreshing fizz that's quite desirable on a hot summer day. Though lemons are the star ingredient, the addition of mint, strawberries and blackberries adds an extra vibrant touch.
Herbaceous
Thyme-infused simple syrup lends an earthy flavor note to this Thyme Lemonade. Garnish each glass with a sprig of fresh thyme for a sophisticated touch.
Tart
Frozen raspberries add a gorgeous pink hue to Ree's homemade Raspberry Lemonade for a more natural-tasting pink lemonade. Keep in mind that the raspberries are quite tart, so take a sip before serving to make sure you've sweetened the batch to everyone's liking.
Boozy
Tyler Florence's Vodka Lemonade is just the drink for your next adults-only affair. The recipe starts with a classic lemonade base — lemon juice, water and simple syrup — and ends with a splash of vodka. It's summer; it's hot outside. Go on and treat yourself.
Slushy
What's more necessary on a hot and humid afternoon than cool lemonade and crisp watermelon? Enter Food Network Kitchen's all-in-one Watermelon Lemonade Slushie. This seasonal take on lemonade comes together with the help of frozen cubed watermelon, which, when blended, creates the slushy texture. For a subtle earthy note, steep fresh basil in the simple syrup, then remove it before blending the slushie.
Nutritious
Here's one lemonade you can feel guiltless about sipping. Sure, this Pear Celery Lemonade is more of a juice, but the combination of pear and celery makes a crisp beverage that's rich in vitamin C. Be sure to drink the juice soon after it's made for the most-nutritious bang. (Tip: Adding chia seeds helps replace the fiber that is lost in the juicing process.)
Berry-Infused
Food Network Magazine offers a hyperseasonal version in the form of this Almost-Famous Strawberry Lemonade, complete with chopped strawberries, bright lemon juice and two simple syrups, one infused with lemon zest, the other infused with — you guessed it — more strawberries.
More posts from Emily Lee.
Similar Posts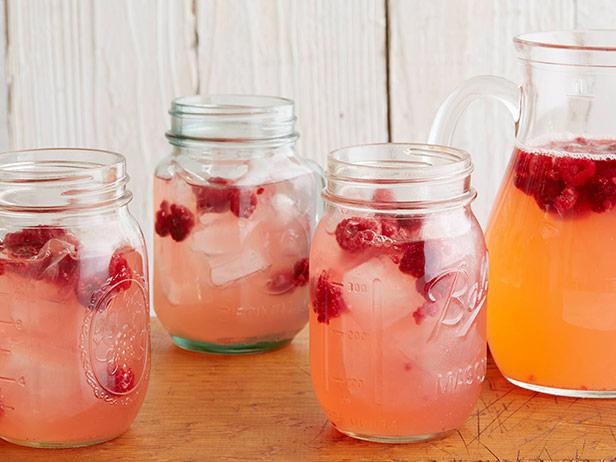 The classic recipe is great and all, but these next-level twists are where it's at....