As a social-media-savvy Food Network fan, you probably follow the Instagram feeds of Ina Garten, Bobby Flay and Giada De Laurentiis — not to mention Guy Fieri, Alton Brown, Ree Drummond, Trisha Yearwood and Food Network — living vicariously through engagingly captioned pictures of their delicious meals, beautiful families and peripatetic travels. But who else should food lovers be following on Instagram?
April Bloomfield
British-born Bloomfield, chef and co-owner of two Michelin-star-awarded New York restaurants, The Spotted Pig and The Breslin, shares images of proud animals (pigs, cows, roosters) and fresh produce straight from the farm, along with delicious-looking dishes both in progress and beautifully plated.
Ashley Rodriguez
The name behind the popular blog Not Without Salt, Ashley takes her bright, crisp food photos to Instagram @ashrod. Look for fresh, simple fare like roasted artichokes and green salads, as well as indulgent treats and scenes from her day-to-day finds.
Joy the Baker
There's an appealing retro simplicity to the images Joy Wilson posts on her Instagram page, which, like her blog and cookbook, is called Joy the Baker. Wilson, a self-taught pro baker, food photographer and writer now based in New Orleans, has a way with an artful spill, dribble or splash and an overhead shot and an eye for layering subtle and vibrant colors. (Her taste trends toward the decadent.) She also has a way of making something look at once absolutely perfect and absolutely real.
Andrew Scrivani
Few food photographers can make dishes look as mouthwateringly appealing as New York Times contributor, videographer and director Scrivani. It's hard to gaze at one of his images for long without feeling the urge to grab a spoon or fork or to just reach in with your fingers and have at whatever this talented snapper has captured on the plate or set upon his wooden table.
Izy Hossack
Not sure what you accomplished by the age of 19, but Izy Hossack, who goes by the social media handle Top With Cinnamon, has launched a popular food blog, racked up 149,000 followers on Instagram, published a cookbook, and been hailed as "the new Nigella." And the British teen, who seems to have a sweet spot for cookies and pastries, is just getting started. "You've got one life to live," she recently told the London Evening Standard, "so just enjoy it!" Perhaps with a sprinkle of cinnamon.
Julie Lee
A sense of space, simplicity and serious whimsy pervades the food collages Lee shares with the 123,000 people who follow her Instagram account, Julie's Kitchen. The images she composes and posts "started out as a way to showcase seasonal and local offerings from neighborhood farmers markets," the California-based food photographer explains on her blog. "It's evolved into an ongoing project in the study of plant design, exploration of color theory, and pure, unadulterated food-love."
Ida Skivenes
Instagram food art doesn't get much more cute and playful than the work of Ida Skivenes, a food artist who hails from Oslo, Norway, and posts adorable food tableaux and other upbeat things at IdaFrosk. "I believe that food should be fun, tasty and for the most part healthy," she writes on her blog. The 284,000 followers of her work on Instagram likely believe it too. (Side note: Lovers of adorable food tableaux should also check out the supercute Instagram page of food artist Samantha Lee.)
Sunday Suppers
You know that wonderful lazy, hazy feeling you get on the most relaxed of Sundays? That's the sensibility that pervades the Sunday Suppers Instagram page, overseen by Karen Mordechai, a leading force behind the Williamsburg, Brooklyn, "food and design community" focused on "seasonal fare and simple, thoughtful living" from which it takes its name. The feed's clean, crisp style – heavy on the white – may leave you (along with 219,000 fellow followers) feeling refreshed and happy.
The Infatuation
Comfort food is the name of the game on the Instagram feed of the restaurant review site The Infatuation, which prides itself on its authenticity and posts totally tempting images of things like burgers, egg sandwiches, cheesy delights, drippy ice cream cones and doughnuts galore. No fear of frying here.
thefeedfeed
It's easy to see why the Instagram page of feedfeed, a crowdsourced digital cooking publication and community overseen by Long Island, N.Y.-based Julie Resnick and her husband, Dan, has racked up more than 280,000 followers. The Resnicks seek to "connect and inspire," by curating and sharing content from home cooks, chefs and bloggers around the world, and thefeedfeed's Instagram feed is a feast for the eyes — and a boon for your kitchen idea file.
Do you have a favorite food-focused Instagram feed? Let the rest of us in on it by sharing it in the comments below.
More posts from Amy Reiter.
Similar Posts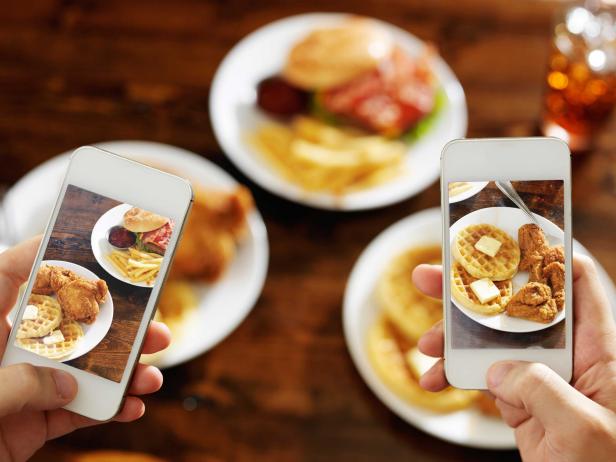 Artificial intelligence can now help you get the recipe for a dish just by uploading a photo of it....