Face it: When you're busy hunting down eggs, opening up your Easter basket and dyeing eggs, who has time to throw together a massive spread? After you pin down your master plan for your Easter ham or rack of lamb, feast your eyes on extra-easy side dishes that won't consume your Easter Sunday.
Tossing high-impact ingredients like seasoned barley, lemon-marinated mushrooms and roasted asparagus together brings on a multi-textured, elegant Mushroom, Barley and Roasted Asparagus Salad (pictured above) with only 20 minutes of active prep. Plus, while you leave the asparagus to roast in the oven, you're free to get to work on your other dishes.
Serve up a basic version of the potato side classic with Food Network Magazine's Simple Scalloped Potatoes, complete with a creamy sauce and a Gruyère topping. In less than an hour, thinly sliced potatoes achieve rich, tender perfection when simply baked in a mixture of whole milk and chicken broth.
Especially since you can oftentimes buy in-season English peas by the bag, Food Network Magazine's Creamy Spring Peas with Pancetta is an easy dish that comes together in just a half-hour. Toss the veggies in a lemony cream sauce with crispy, salty pancetta for a simple, special springtime dish.
The thought of baking homemade bread may sound intimidating at first, but Trisha Yearwood's Easiest Muffins require just four ingredients to achieve fluffy perfection in 25 minutes.
Finish off your menu with an ultra-easy and healthy Spinach-Pita Salad that's crunchy, fresh and classic.
Get more Easter recipes from our friends:
Feed Me Phoebe: Green Goddess Avocado Toasts with Roasted Spring Vegetables and Tahini Sauce
Dishing with Divya: Thai Roasted Vegetables with Peanut Coconut Sauce
Haute Apple Pie: Smoked Gouda Scalloped Potatoes
Food for 7 Stages of Life: Spicy Oven Roasted Brussels Sprouts
The Recipe Specialist: Spring Vegetable Tart
Napa Farmhouse 1885: Ceviche Appetizer
Red or Green: Taos Cowboy Caviar
Creative Culinary: Avocado and Orange Chopped Salad with Orange Honey Mustard Dressing
Swing Eats: Greek Spinach Casserole (gluten-free)
Dishin & Dishes: Deviled Egg And Avocado Dip
Daily*Dishin: Perfect Deviled Eggs 5 Ways
The Cultural Dish: Italian Easter Egg Bread
More posts from Allison Milam.
Similar Posts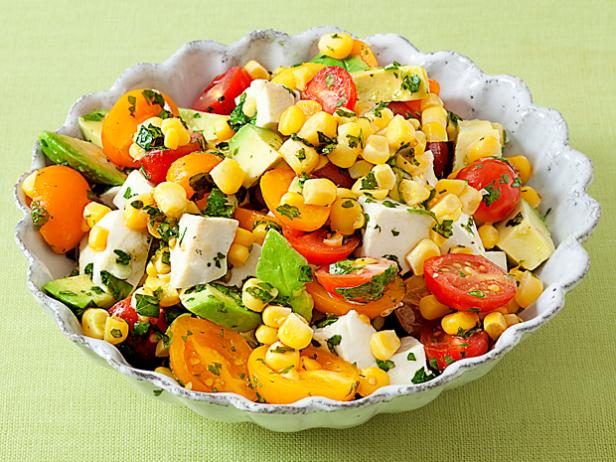 When it's too hot to cook, look no further than these tomato-focused recipes....