You may think of plastic-wrapped trays of chicken breasts as the most-boring item in your supermarket's refrigerated section, but perhaps that view is on the stunted side. This week we're running down the line of our favorite chicken comfort foods, pitting classic recipes against new creative takes. With fresh spins on chicken pot pie, chicken piccata and more, it's safe to say that good ol' chicken breast has a whole lot more to offer than you might think.
1. Chicken Pot Pie
Classic Comfort: Odds are, you've plunged a spoon into a dough-topped chicken pot pie to scoop up the decadent, creamy chicken-and-veggie filling. Ina Garten's Chicken Pot Pie (pictured above) is the most-classic recipe of them all, complete with a from-scratch pastry dough topping that comes out of the oven golden.
The New Take: Rather than loading it all into a casserole dish, try folding up your next chicken pot pie dinner. Melissa d'Arabian's recipe for Chicken Pot Pie Turnovers wraps the chicken filling in flaky puff pastry so every bite of this dinner riff is doughier than ever.
2. Chicken Piccata

Classic Comfort: Lemony and bright, Giada De Laurentiis' classic Chicken Piccata comes to the table with a vibrant, buttery sauce of lemon juice, chicken stock and capers. Butterflying the chicken ensures it's done quickly, so you can get a taste of elegance any night of the week.
The New Take: If you're down for the piccata treatment but are looking to tuck into something more than a chicken breast, go for Rachael Ray's all-in-one Chicken Piccata Pasta Toss. It packs all the flavors of the classic Italian dish by tossing pasta with chunks of juicy chicken breast.
3. Chicken Noodle

Classic Comfort: We don't need to be the ones to tell you that a bowl of chicken noodle soup can cure any and all things. Tyler Florence's Chicken Noodle Soup keeps it classic, using homemade chicken stock, shredded chicken, egg noodles and veggies.
The New Take: Chicken and noodles together have always spelled out "comfort food," and Ree Drummond's Chicken Spaghetti is no exception. Unlike a bowl of regular chicken and noodles, Ree's cheesy casserole gets added decadence from a creamy mushroom sauce, plus a layer of cheddar cheese that leaves the oven bubbling and rich.
4. Chicken Tortilla

Classic Comfort: Some would say a simmering bowl of chicken tortilla soup is as curative as a bowl of chicken noodle, and Trisha's Chicken Tortilla Soup is undeniable proof. Stir in store-bought salsa to add an easy punch to the soup base, and top with crumbled tortilla chips, sour cream and cheese for full south-of-the-border flair.
The New Take: Layer up Trisha Yearwood's Chicken Tortilla Casserole with levels of corn tortilla, chicken breast, cheese and spices, plus a good helping of homemade chicken gravy. The result is a hearty Mexican-inspired casserole that uses chile-spiked heat as a means of warming comfort.
Get more chicken recipes from family and friends:
Feed Me Phoebe: Easy Vietnamese Chicken Pho with Bok Choy and Herbs (Pho Ga)
The Lemon Bowl: Thai Chicken Satay with Sriracha Hoisin Peanut Sauce
The Heritage Cook: Chicken Divan with Roasted Vegetables (Gluten Free)
Creative Culinary: Maple Bourbon Chicken with Bacon
Dishing with Divya: Chicken Bones and Vegetable Soup
Elephants and the Coconut Trees: Whole Roasted Tandoori Chicken
Taste with the Eyes: Fabulous Filipino Chicken Adobo
Napa Farmhouse 1885: Chicken with Spinach & Artichoke Dip Sauce
Red or Green: Spicy Chicken, Rice & Black Bean Bake
More posts from Allison Milam.
Similar Posts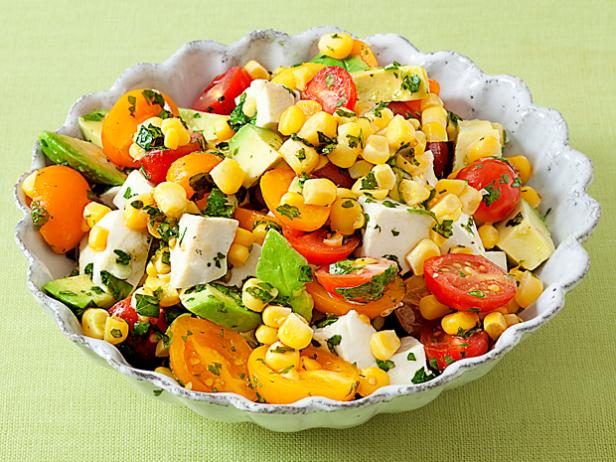 When it's too hot to cook, look no further than these tomato-focused recipes....