Chances are you've ladled out your fair share of mashed potatoes over the years. Though this creamy, dreamy side could never, ever get old, there's something to be said for dressing up your family's tried-and-true recipe every once in a while. This week, in celebration of our first installment of Sensational Sides, we're digging into mashed potato recipes that come to the table with a few extra-special touches.
Bake them
When you sink a spoon into Giada De Laurentiis' Baked Mashed Potatoes with Parmesan Cheese and Bread Crumbs (pictured above), you're met with a crunchy, buttery topping that contrasts just right with the creamy, rich mashed potato center. Browned on top and served in a casserole dish, this cheesy take on mashed potatoes gives a special edge to a weeknight staple.
Add a kick
Though a lot of mashed potato recipes take nothing more than butter, cream, salt and pepper, Ree Drummond's Cajun Mashed Potatoes toss in a little spice to keep things interesting. Mix up homemade Cajun seasoning, complete with garlic powder, paprika, black pepper, kosher salt and cayenne pepper, before blending it with velvety cream cheese-infused mashed potatoes. Ree always adds cream cheese to mashed potatoes as her go-to secret weapon, so the added spice is met with a little added creaminess too.
Make 'em tangy
Even when you add just half a cup of sour cream to mashed potatoes, you get a luxuriously creamy texture with a background tang that'll have your family going back for seconds. Ina Garten's Sour Cream Mashed Potatoes are so good, you'll be making them on repeat for dinners to come.
Pass on the potatoes
Art Smith's Garlic Mashed Cauliflower from Trisha Yearwood may sound like just another low-carb alternative, but this side is so good that carb cutters and carb lovers alike will be digging in with abandon. When you blend up a cooked head of cauliflower in a food processor with a little Greek yogurt, chicken stock, Parmesan and seasoning, you get a luxuriously creamy mashed side that looks the potato part and tastes just as creamy, comforting and decadent.
Keep 'em loaded
Potato skins may be a staple of your game-day viewing parties, but those aren't the only times you can relish this bacon-laced goodness. After folding in all the ingredients you love about potato skins (aka fresh chives, crispy turkey bacon and extra-sharp cheddar), serve Rachael Ray's Mashed Potato Skins for Food Network Magazine at the dinner table.
Get more mashed recipes from friends:
The Wimpy Vegetarian: Mashed Celery Root with Blue Cheese and Watercress
Creative Culinary: Leek, Bacon, Garlic and Thyme Smashed Potato Cakes
Dishin & Dishes: Jalapeno Spaghetti Squash Hash Browns
Weelicious: Mashed Potato Cakes
Elephants and the Coconut Trees: Spicy Roasted Eggplant Mash
Taste with the Eyes: La Purée de Pommes de Terre de Joël Robuchon
Napa Farmhouse 1885: Roasted Carrot, Onion & Garlic Mash
Red or Green: Cauliflower & Beet Mash with Chile Infused Olive Oil
Swing Eats: Italian Style Smashed Potatoes
The Mom 100: Perfect Mashed Potatoes
Daily*Dishin: Mashed NotPotatoes Cauliflower
More posts from Allison Milam.
Similar Posts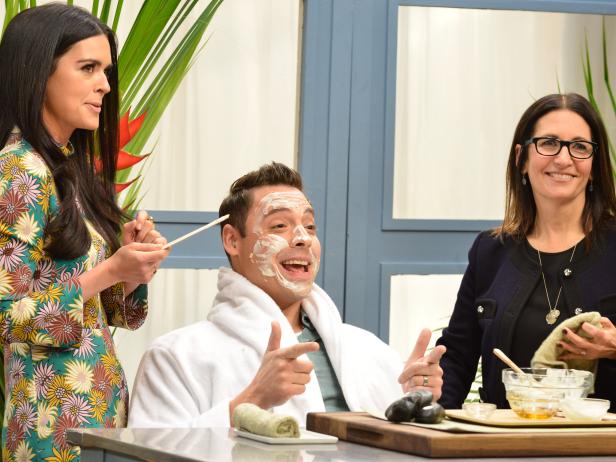 You don't have to travel somewhere exotic to make the most of your time off....