Pity the poor pizza crust. Recently, snack food mash-up fans have cheered attempts to replace it with everything from Doritos to potato chips. Now a guy named JP Lambiase, who posts weekly videos to YouTube under the handle HellthyJunkFood — "not to be confused with healthy," he warns — has has created a pizza crust made out of french fries.
He did it in response to a plea issued via YouTube: "JP I want you to make a French Fries pizza and you might think what do I mean well its like a regular pizza but you don't use any dough just fries on the bottom," someone named thejoman wrote. The request ended with a heartrending final word: "please."
So Lambiase took up the challenge, ripping open a bag of frozen fries and mashing them into submission. But the thing is, the smooshed fries aren't even the least appetizing part about this pie. Lambiase pushed the bounds of good taste even further, topping the pizza with canned "no bean" chili and cut-up hot dogs, in addition to lots and lots of cheese.
So how did it taste? Lambiase declares his first bite to be "crazy good," but after stuffing the rest in his mouth, the truth comes out — among other things.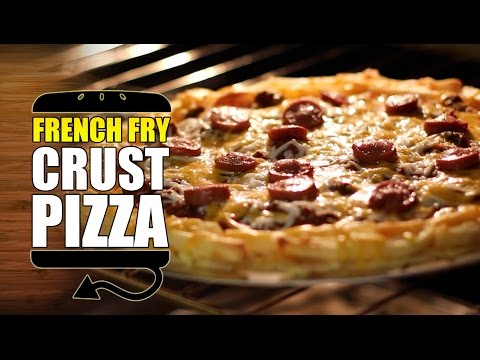 Photo courtesy of HellthyJunkFood
More posts from Amy Reiter.
Similar Posts
Some people like ketchup on their fries. Others prefer mayo. In Australia, people take their fries with chicken salt. Here's what you need to know abo...