Today kicks off the very first week of the annual Comfort Food Feast series. If you're bundled in sweaters and scarves like many of us, can you think of a better way to greet January than with the comfort of a hot casserole? This week, serve your family hearty, crowd-pleasing casserole recipes that are just what the dead of winter calls for.
A heaping plate of cheesy spaghetti would be comforting on its own, but Ree Drummond's Chicken Spaghetti is a baked pasta dish that leaves the oven nice and bubbly. Strewn with tender morsels of chicken and made even creamier with mushroom sauce, Ree's dish is fixed with broken pieces of spaghetti so it's extra-easy to eat.
Savory meat pies are synonymous with comfort food, and Food Network Magazine's Chicken Pot Pie with Cheddar Crust is no exception. Underneath the buttery crust (spiked with grated sharp cheddar cheese, we'll have you know), you'll find moist pieces of store-bought rotisserie chicken enriched with broth and veggies.
Broccoli and cheese are a time-tested match, and Broccoli and Orzo Casserole shows the pairing at its heartiest. Use creamy Havarti in this comforting casserole for that ideal gooey texture, and top with buttery panko breadcrumbs for a little crunch.
Load everything that you love about taco night into one scoopable taco dish. Food Network Kitchen, which created the Beef and Bean Taco Casserole, nicknames this dish the "broken enchilada" since the layer of broken tortilla chips at the bottom softens as it cooks, giving the casserole the feel of enchiladas with a fraction of the effort.
Trisha Yearwood's Baked Bean Casserole shows that the BBQ-joint favorite is even better when baked in a casserole dish. Though baked beans are traditionally served on the side, this recipe combines pork, beans and barbecue sauce together to be hearty enough to be a main dish.
Head to FoodNetwork.com for even more hearty casserole inspiration.
Get more casserole recipes from friends and family:
The Cultural Dish: Mediterranean Fish Casserole
The Heritage Cook: Arroz Con Pollo Casserole (Gluten-Free)
The Wimpy Vegetarian: Baked Artichoke Radicchio Risotto with Lemon-Caper Breadcrumbs
Taste with the Eyes: Mini Shrimp and Grits Casseroles
Napa Farmhouse 1885: Lasagne al Forno with Chard & Mushrooms
Red or Green: Pasta "al forno" Casserole with Mushrooms, Peppers & Vegetables
Swing Eats: Pastitsio: A Delicious Greek Pasta Casserole (gluten-free)
Virtually Homemade: Tamale Pie
Weelicious: Chicken Wild Rice Casserole
Haute Apple Pie: Tex Mex Spaghetti Squash Casserole
Domesticate Me: Baked Orzo with Turkey Sausage, Broccolini and Fontina
More posts from Allison Milam.
Similar Posts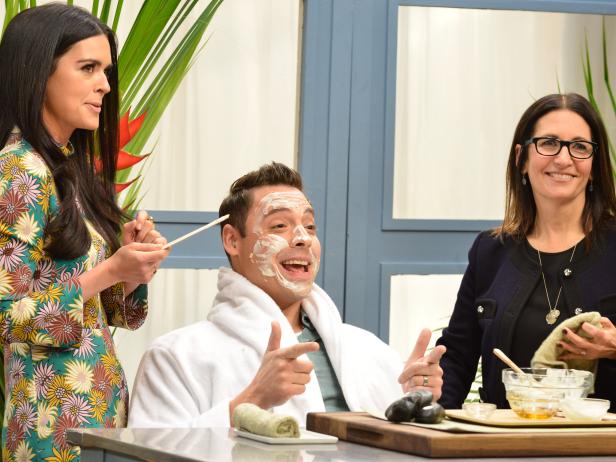 You don't have to travel somewhere exotic to make the most of your time off....