Though your holiday preparations may not have gone beyond trips to the store and hours spent scrolling for gifts online, another most-important element of the holiday season is coming up fast: Christmas dinner. While you may think of your recipes for Christmas ham and rib roast as yearly centerpieces, remember that seasonal side dishes are an integral part of your holiday spread. Start rounding out your celebratory meal by adding ingredients for in-season, produce-heavy side recipes to your shopping list. Here are some of our favorites:
Just like Thanksgiving, Christmas dinner puts the spotlight on stuffing. To differentiate from what was eaten in November, Giada De Laurentiis makes her Christmas Stuffing with Bacon with two varieties of rice (short-grain brown rice and wild rice) in place of bread, and stocks it with hearty veggies like pearl onions, Brussels sprouts and chopped bacon.
The Brussels sprouts lovers at your table will go back for second scoops of Ree Drummond's Brussels Sprouts with Balsamic and Cranberries. By reducing the balsamic vinegar with sugar on the stove, Ree creates a sweet, syrupy glaze that counters the earthy heartiness of the sprouts.
When you're cooking for a crowd, the dishes that are easiest are the dishes that are best. For a no-fuss side that's ultra-low on prep time, heat the oven high for Food Network Magazine's Roasted Celery Root and Carrots, which gets its distinctive flavor profile from fresh herbs and a dusting of hot paprika.
Just like your favorite indulgent potato gratin recipe, Fennel Gratin is a rich side that hinges on cream and Parmesan cheese. Just a tablespoon of mustard is all it takes to deepen the flavors in this dish, which comes out of the oven bubbling and golden.
Over the course of nine hours, Ree transforms once-rubbery mushrooms into rich and luxurious Burgundy Mushrooms. Though the mushrooms take hours to soak up the intensity of red wine and bouillon, they can be made up to a day ahead, making your holiday prep that much easier.
For more inspiration for holiday eating, head to Food Network.
Get more holiday side dishes from family and friends:
Feed Me Phoebe: Gluten-Free Sweet Potato Latkes with Scallions
The Lemon Bowl: Slow Cooker Apple Cranberry Sauce
Jeanette's Healthy Living: Warm Roasted Brussels Sprout Apple Salad with Blue Cheese and Pecans
The Wimpy Vegetarian: Lemon Roasted Fennel with Olives and Breadcrumbs #FallFest
Napa Farmhouse 1885: White Beans, Arugula & Sun Dried Tomatoes
Red or Green: Roasted Cauliflower & Garlic Soup with Chile
Big Girls, Small Kitchen: Cheesy Winter Squash Bake
Virtually Homemade: Green Beans with Brown Butter and Almonds
The Cultural Dish: Kartoffelpuffer: German Potato Pancakes
The Mom 100: Baked Squash with Chili and Maple Syrup
Domesticate Me: Kale and Brussels Sprout Salad with Pomegranate and Avocado
Taste with the Eyes: Hanukkah Brisket Tamales with Carrot, Onion, and Jalapeño
More posts from Allison Milam.
Similar Posts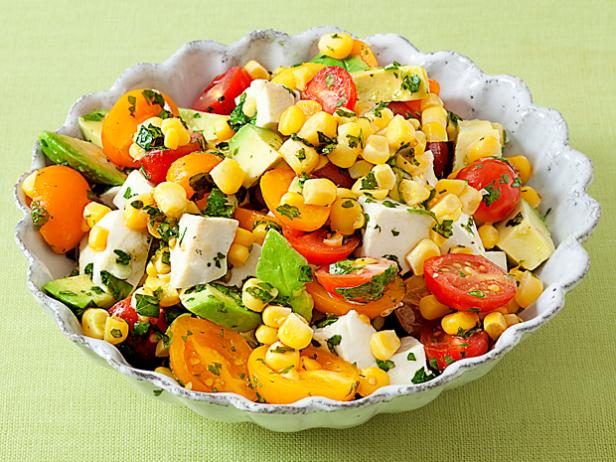 When it's too hot to cook, look no further than these tomato-focused recipes....