When it comes to our favorite dip recipes, the more layers, the better. That's why we're digging Food Network's finest every-layer dips, ranging from five layers to a towering 10.
Five: Inspired by the diner sandwich staple, Five-Layer Reuben Dip (pictured above) stacks all the ingredients that make up a good Reuben. From the bottom to the top, shredded Swiss, thin-sliced corned beef, toasted rye bread, Russian dressing and extra-crunchy sauerkraut are addictive in deconstructed form. Take heaping scoops with rye bread toasts for the full package.
Six: Think of Six Layers and a Chip Dip as the dream Southwestern dip. All of the usual suspects you'd find in a plate of nachos — from the beans to the guac to the cheese — come together for one deep dip. Blend canned beans in the food processor with garlic and chili powder so they're extra scoopable.
Seven: Even without a meat layer, Seven-Layer Vegetarian Greek Dip is as substantial as it gets. A scoop of this crowd-pleasing appetizer includes artichoke hearts, cucumber, roasted red bell peppers, crushed pita chips, store-bought hummus, feta and herbed olives.
Eight: When you sink a tortilla chip into Eight-Layer Chicken Chili Dip, it'll be a win if it carries all the layers of black beans, cheddar, cornbread and more without snapping into pieces. It's that loaded. Don't let the toil of prepping meat turn you away from making this dip; rotisserie chicken makes the chili element a cinch.
Nine: Take apart the American mainstay for a Nine-Layer Cheeseburger Dip. Rather than wrap your hands around a burger that's bigger than you head, sink a chip into this dip, which packs everything from toasted hamburger buns to freshly crisped bacon and ground beef.
Ten: For once, hot dogs go from single-serving, bun-bound bliss to something refreshingly communal. As our most-layered dip of all, Ten-Layer Chicago Dog Dip comes with everything you'd want on a good dog. Topped with mustard, relish and even broiled buns, all-beef hot dogs are event better when scooped up with a potato chip.
Get more dip recipes from friends and family:
Jeanette's Healthy Living: Cincinnati Chili Refried Bean Cheese Dip
The Lemon Bowl: Lebanese Garlic Sauce
Weelicious: Romesco
Napa Farmhouse 1885: Triple Onion Dip with Caramelized Walla Wallas
Red or Green: Roasted Peppers, Chiles and Eggplant Dip
Taste With The Eyes: Cocktail Nibbles Inspired by James Beard
Virtually Homemade: Double-Chocolate Yogurt Dip
Elephants and the Coconut Trees: 5 Favorite Dips
Domesticate Me: Chipotle Hummus with Chili-Lime Pita Chips
Devour: 6 Dips to Make in a Dash
FN Dish: Towering Layer Dips
More posts from Allison Milam.
Similar Posts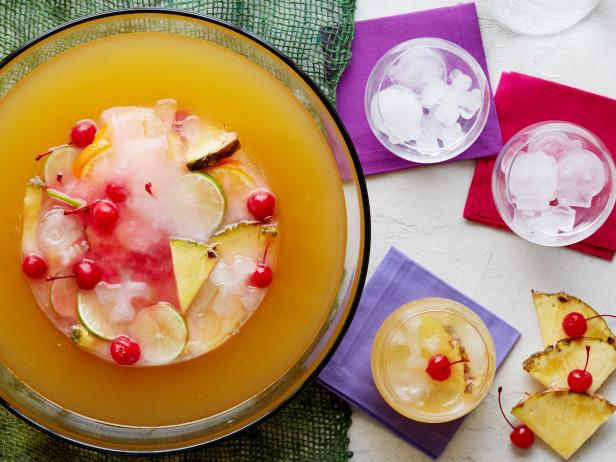 From formal events to backyard barbecues, punch is a party favorite for the ages....