Sara Deseran's Tacolicious is a fiesta cleverly disguised as a bright, colorful cookbook. The book is inspired by the heart of the menu of the collection of taquerias in San Francisco and Palo Alto, Calif. of the same name: tacos, snacks and cocktails.
The recipes you'll find are admittedly a mix of authentic Mexican cuisine and Californian variations on Mexican-American dishes. The book is broken into themed chapters, starting with Salsas, Pickles and More, then focusing on Snacks and Sides, Tacos, Tacos and Tacos, and finishing with Cocktails, Aguas Frescas and More. Peppered throughout the book are fantastic factual tidbits that reveal the deep roots of the food's heritage, as well as tips and tricks that make the recipes easier to execute. Tucked into these little asides you'll find everything from tips for cooking beans to an in-depth look at corn tortillas and a comprehensive guide to quick and easy taco dinner recipes. The book has all the information you need to cook delicious Mexican-style food at home, regardless of your past experience with the cuisine.
Deseran also introduces you to vendors that have become friends, the chefs and bartenders that keep their eatery running, and a colorful assortment of characters that bring life to the restaurant and the pages of the book. The recipes in Tacolicious feel like they're meant to be shared among friends and family (like the Guajillo-Braised Beef Short Rib Taco, recipe shared below). This cookbook is perfect for the busy home cook who wants vibrant, flavorful, fuss-free food. You can order your copy here.
Guajillo-Braised Beef Short Rib Taco
Everyone has his or her favorite Tacolicious taco, but this is mine, hands down. These short ribs cooked slowly with guajillos break down into the perfect braised meat, rich, a tad spicy and appropriately messy — a true sign of greatness. You can ask your butcher to bone the ribs for you, or you can just cook them with the bone in and then bone them before shredding the meat. You'll need 5 pounds of bone-in short ribs to yield the required 3 pounds of meat. This dish can be on the spicy side, so if you're really sensitive to heat, cut back a little on the chiles.
Yield: 16 tacos; 4 to 6 servings
8 guajillo chiles, stemmed and seeded
3 dried chipotle chiles, stemmed and seeded
2 to 4 tablespoons vegetable oil
3 pounds boneless beef short ribs
1 large yellow onion, coarsely chopped
2 cloves garlic, coarsely chopped
One 12-ounce bottle Negra Modelo or other dark Mexican beer
2 teaspoons ground cumin
1 teaspoon freshly ground black pepper
1 1/2 tablespoons dried Mexican oregano
1 1/2 tablespoons kosher salt
1/2 cup water
Corn tortillas, warmed, for serving
Chopped white onion, chopped fresh cilantro, salsa of choice and lime wedges, for serving
Preheat the oven to 325 degrees F.
Working in two batches if necessary to avoid crowding, lightly toast all of the chiles in a dry, heavy skillet over medium heat for 30 seconds on each side, until fragrant but not blackened. Set them aside on a plate.
Heat 2 tablespoons of the oil in a Dutch oven or other heavy pot with a lid over medium-high heat. When the oil is hot, working in batches to avoid crowding, add the meat and sear for about 3 minutes on each side, until the pieces have formed a uniformly browned crust. Add more oil to the pot as needed to prevent scorching. As the pieces are ready, set them aside on a plate.
Add the onion to the same pot over medium heat and cook, stirring occasionally, for about 5 minutes, until it starts to brown. Add the garlic and cook for an additional 2 minutes. Pour in the beer, add the toasted chiles and turn down the heat to low. Simmer uncovered, stirring occasionally, for about 5 minutes, until the chiles have softened and are pliable. Remove from the heat and let cool.
Transfer the contents of the pot to a blender and reserve the pot. Add the cumin, pepper, oregano, salt and water to the blender, and blend the mixture on high speed until smooth and the consistency of cream, adding more water if needed to thin the mixture a bit.
Return the seared meat to the pot and pour in the chile mixture. Cover, transfer to the oven and cook, stirring occasionally, for 3 to 4 hours, until the meat is fork-tender.
Remove from the oven and, using tongs or a couple of forks, shred the meat in the pot. Taste and adjust the seasoning with salt if needed. Serve with the tortillas, onion, cilantro, salsa and lime.
Reprinted with permission from Tacolicious, by Sara Deseran and Joe Hargrave, copyright © 2014, published by Ten Speed Press, an imprint of Random House LLC. Photographs copyright © 2014 by Alex Farnum.
More posts from Mallory Viscardi.
Similar Posts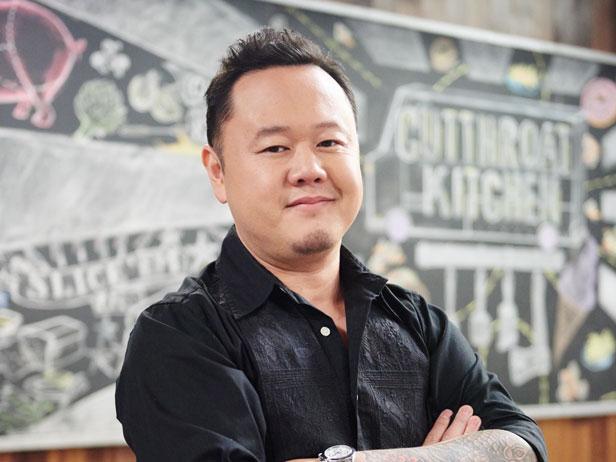 Find out how you can enter to win a copy of Jet Tila new cookbook....