No bowl is more likely to be scraped clean than one holding guacamole. The more, the better. As non-negotiable at a tailgating party as it is next to a plate of sizzling fajitas, the most sought-after dip depends on creamy, perfectly ripe (firm, with just a bit of give) avocados. As it turns out, after it's been pitted and sliced with chef-level dexterity, the trusty avocado has more tricks to it than good old guac, and you can use it to make everything from soup to sweets.
Next time your nearest avocado reaches that fleeting range of ripeness, do something other than mash it with a fork. Instead, puree it for a silky Chilled Avocado Soup (bottom left) that's taken with a spoon instead of a chip.
Instead of throwing a peeled banana into your blender, try using creamy avocado to add that velvety thickness to your smoothies. Slurp an Ultra-Creamy Avocado Smoothie (top right) for dessert, and remember: the riper the avocado, the sweeter the shake.
Think your go-to pesto pasta is good? Giada De Laurentiis blends her zesty arugula pesto together with avocado for a good-for-you creamy take, Linguine with Avocado and Arugula Pesto.
The avocado's innate smoothness makes it easy to create a sauce. Puree avocado, lime and cilantro together in a food processor for Food Network Magazine's Steak with Avocado Sauce and Tomato Salad. Or make an avocado dressing — heavy on the herbs — that jibes perfectly with grilled fish.
When you bite into Guy Fieri's Chicken Avocado Egg Rolls, creamy, fresh avocado counters the crispy exterior and crunchy veggies.
If you just can't beat the avocado-means-dip mentality, Food Network Magazine's Avocado-Feta Dip does it differently. Feta livens up the avocado with its special saltiness, and jalapeno adds a responsible kick, making it the most exciting dip veggie sticks or toasted bread have met in a while. Food Network Magazine also blends avocado with store-bought hummus, jalapeno and cilantro for a smooth, no-frills Avocado Hummus (bottom right).
On its own, pure avocado is smooth with a light, borderline-buttery flavor that takes on the flavor of whatever ingredients it meets. Food Network Magazine's Avocado Pie (top left) is a recipe whose green hue might provoke a double take. Instead of the usual suspects, this pie piles an avocado-cream cheese filling atop a buttery graham cracker crust.
Since avocados are nice and thick, they make the perfect base for Giada's Chocolate-Avocado Mousse. Unlike a classic mousse, this velvety dessert isn't loaded with cream and sugar, so it won't leave you feeling weighed down. Hey, it's no wonder that Giada found this recipe while saving room for dessert at a spa.
Odds are, these avocado-centered recipes will disappear just as quickly as a bowl of guac. But, hey, we aren't saying you shouldn't make some of that too.
Get more avocado recipes from friends and family:
Feed Me Phoebe: Coconut Kale Salad with Avocado and Pickled Vegetables
Weelicious: Avocado Honey Dip
Devour: Why You Should Eat Avocados All Day Long
Dishing With Divya: Vietnamese Avocado Milkshake
Napa Farmhouse 1885: Avocado and Grilled Shrimp Salad
Red or Green: Spicy Avocado Spread Sandwich
Taste With The Eyes: Tortilla Soup with Lobster and Avocado
Virtually Homemade: Grilled Salmon with Avocado Salsa
Domesticate Me: Superfood Chocolate Avocado Pudding (Vegan and Gluten-Free)
FN Dish: Go Beyond Guacamole (Avocado Recipes)
More posts from Allison Milam.
Similar Posts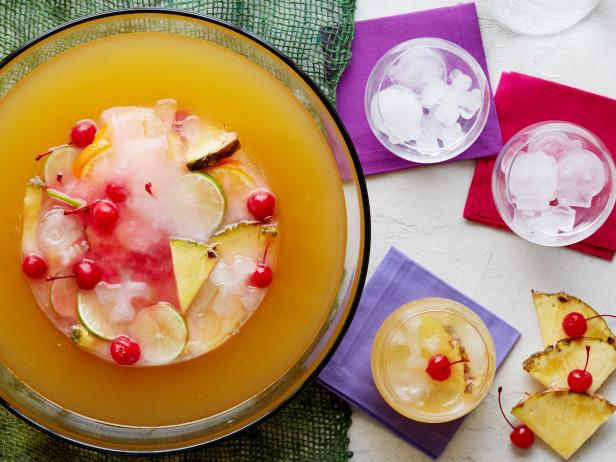 From formal events to backyard barbecues, punch is a party favorite for the ages....