Welcome to the Hamptons: home to beautiful beaches, incredible real estate and renowned traffic (especially during prime summer season). In the many villages and hamlets of the towns of Southampton and East Hampton, restaurants can cycle through as quickly as summer tourists. But an abundance of local produce and access to both the Long Island Sound and the Atlantic Ocean for fresh seafood mean you're guaranteed to get a great meal at any time of the year. Plentiful weekly farmers markets, along with roadside stands like Little Dog Farm (pictured above), The Green Thumb farm stand (one of Katie Lee's favorites, where she buys local Mecox cheese) and North Sea Farms, mean you can also make a mean meal at home. To help craft this tour we reached out to a few experts, including Food Network stars Katie Lee and Geoffrey Zakarian; Dan Rattiner, the publisher of the local iconic weekly Dan's Papers and host of Dan's Taste of Summer (where you can try almost all of these spots in one place); and Kathleen King, founder and owner of Tate's Bake Shop. And we added a few of our personal favorites.
Breakfast or Brunch
Estia's Little Kitchen (1615 Bridgehampton Sag Harbor Turnpike, Sag Harbor, N.Y.) is a favorite of locals and summer visitors alike. The menu is influenced by Mexican flavors, with platters like the George's Ranch (tortillas with eggs, avocado, black beans, cheese and salsa) and Fish Creek Huevos Rancheros (refritos, tomatillo salsa and queso fresco). Even better, the hefty portions won't break the bank. Waiting for a table has never been more enjoyable: Read the paper on an Adirondack chair in the grassy area of the garden.
Head farther east to Joni's for a wholesome breakfast with plenty of vegan options (South Edison Street between South Etna Avenue and South Elmwood Avenue, Montauk, N.Y.). The breakfast wraps are customizable, the smoothie menu is epic and the homemade granola is so tasty you'll want to take a tub of it home.
Special Occasion Dining
Iron Chef, Chopped judge and host of the The Kitchen Geoffrey enjoys both a meal and an overnight stay at Tom Colicchio's first establishment on the East End: Topping Rose House (1 Bridgehampton Sag Harbor Turnpike, Bridgehampton, N.Y.) The property features a luxury hotel and restaurant complex complete with a spa and a pool. Start with English Pea Ravioli or Fried Montauk Oysters, then indulge in Braised Short Rib with Baby Carrots and New Potatoes, or enjoy Roasted Monkfish with Heirloom Beans. The restaurant keeps the meal going with a sample of its housemade granola to go before you depart.
Another spot for celebrating is also one of Geoffrey's favorites: Sant Ambroeus (30 Main St., Southampton, N.Y.). The East End location of this romantic Italian restaurant features a signature branzino. Save room for dessert; Kathleen always orders mint chocolate chip ice cream.
Seafood Favorites
Bay Kitchen Bar (39 Gann Road, East Hampton, N.Y.) is new for 2014 and already establishing itself as a destination for seafood and waterfront dining.
For a low-key seafood dinner, Katie heads to Dave's Grill (468 West Lake Drive, Montauk, N.Y.). It overlooks the marina, so you can have fresh seafood right off of the docks.
If you're looking for your lobster roll fix, head to the Red Hook Lobster Pound (34 South Etna Street, Montauk, N.Y.) or make a stop in Hampton Bays at Canal Cafe (44 Newtown Road, Hampton Bays, N.Y.).
Food to Go (to the Beach or Home)
The Cavaniola's Gourmet trifecta of to-go eating starts with one of Ina Garten's favorites: the cheese shop (89 Division Street, Sag Harbor, N.Y.). Here you'll find an enticing array of cheeses from all over the world, as well as baguettes and crackers for pairing. In addition, the Cavaniola family owns Kitchen, with foods and baked goods for takeaway, as well as a wine shop located in the historic Umbrella House, which housed troops during the Revolutionary War. Round out your menu further with a stop at The Seafood Shop (356 Montauk Highway, Wainscott, N.Y.) for fresh seafood salads and ready-to-eat meals.
Pick up a cup to go at Jack's Stir Brew (146 Montauk Highway, Amagansett, N.Y.), where there's more to the menu than iced coffees and lattes. Try The Mountie, a latte with maple syrup and cinnamon, or a Happy Jack, which swaps maple syrup for honey. Or visit local favorite and the drink of choice for Food Network star Katie, Hampton Coffee Company (869 Montauk Highway, Water Mill, N.Y.).
Sweet Treats
Even if you've never been to the Hamptons, you might have already tried Tate's Bake Shop chocolate chip cookies (43 North Sea Road, Southampton, N.Y.). The bakery began more than 30 years ago and has been churning out nationally recognizable crunchy cookies ever since. Skip traditional chocolate chip and try butterscotch, ginger, white chocolate macadamia and even a few gluten-free varieties. If you're feeling like the classic, be sure to try one of the Tatewiches, made with vanilla ice cream and their famous chocolate chip cookies (it's also Kathleen's favorite way to eat ice cream). If cakier, chewy cookies are your thing, check out Levain Bakery (354 Montauk Highway, Wainscott, N.Y.). The chocolate chip walnut cookie is one of the largest we've seen, but you're sure to devour it all anyway.
More posts from Cameron Curtis.
Similar Posts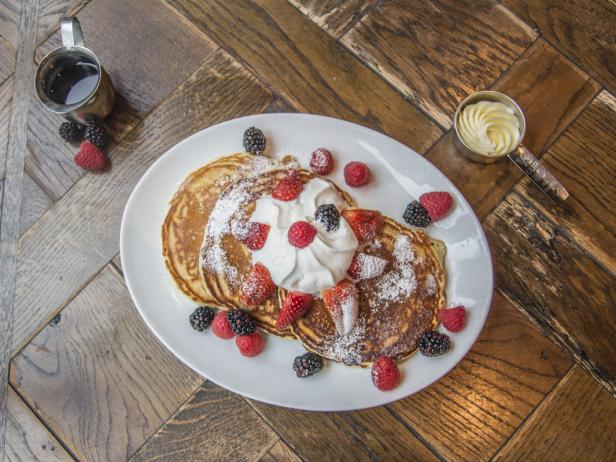 Chefs share where they go out to eat with the tiniest of food critics... their kids....