This weekend on Food Network, the stars of your favorite shows are showing you how to make the most of the warm weather with barbecue specials and inventive summer snacks.
First, join Ree as she takes you through her favorite comfort-food recipes on The Pioneer Woman. After, join the hosts of The Kitchen as they prepare some warm-weather snacks for any occasion.
Then, on Sunday, Ina busts out the grill on Barefoot Contessa, showing you that summer is far from over. Bobby takes to the farmers' market to create big flavors with fresh ingredients on Barbecue Addiction: Bobby's Basics. Finally, tune in for three hours of competition with new episodes of Guy's Grocery Games and Cutthroat Kitchen, and the season finale of Food Network Star.
The Pioneer Woman: Kitchen Confessional – Comfort Food
Ree's spilling the beans on her favorite comfort food. There are culinary hugs from Chicken and Dumplings, Quesadillas with Shrimp and Peppers, Pasta with Tomato Cream Sauce and Cinnamon Toast.
Saturday 10a|9c
The Kitchen: Summer Snack Show
Katie cooks up a cool and crispy snack using the most searched-for summer ingredient. Marcela's Aztec Fruit Bars are the perfect snack for your road trip. Jeff grills up Angel Food Cake with Peaches and Cream. Geoffrey, Sunny and Katie create some epic mash-ups, like Ramen Noodle Pizza. Geoffrey's Sparkling Peach Iced Tea is the perfect pairing for all your summer snacks.
Saturday 11a|10c
Barefoot Contessa: Barbecues and Bouquets
It's a day of flames and flowers as Ina shares fantastic surf-and-turf grilling recipes with her friend, perfumer Antonia. She's welcoming her with Gazpacho with Goat Cheese Croutons for lunch, then firing up the grill and making Mustard-Marinated Flank Steak and Sicilian Grilled Swordfish. In exchange for the grilling lesson, Antonia's showing Ina how to make an incredible bouquet.
Sunday 10a|9c
Barbecue Addiction: Bobby's Basics – Farmers' Market Feast
Bobby Flay shares his most versatile grilling techniques to make an incredible meal with whatever's freshest at the market. On the menu are his Sticky Glazed Chicken Thighs in Butter Lettuce and a Corn and Scallion Salad with a fresh herb dressing. Bobby's also using the grill for fresh peaches and topping them with an Arugula Pesto and thinly sliced Prosciutto. And with extra herbs on hand, Bobby mixes up a mint tea cocktail to drink!
Sunday 11a|10c
Guy's Grocery Games: Food Network All-Stars Take to the Aisles
Get ready for the Food Network All-Stars to bring their "A"-game to Flavortown. In game one, the chefs show off their spelling skills and culinary prowess in ABC. Next, the chefs go international as the Food Wheel determines their destiny. The two remaining All-Stars bring the heat in Frozen Food Feud like you've never seen before. The winning chef takes to the aisles in hopes of grabbing up to $20,000 for his or her chosen charity.
Sunday 8|7c
Food Network Star: A Food Star Is Born Finale
The results are in! America has voted to determine who will be the next Food Network Star. Before the winner is revealed, all of the finalists are back in the studio to tell all and view never-before-seen footage from the season. Bobby Flay, Alton Brown and Giada De Laurentiis each share their favorite moments during an emotional look back at the final three's journey to the finale. Then, suspense rises as the time comes to reveal who will walk away the new Food Network Star.
Sunday 9|8c
A chef is forced to cook soup using a single-brew coffee machine. Later, chefs get hands-on when Alton asks for peace in the kitchen.
Sunday 10|9c
More posts from Nikhita Mahtani.
Similar Posts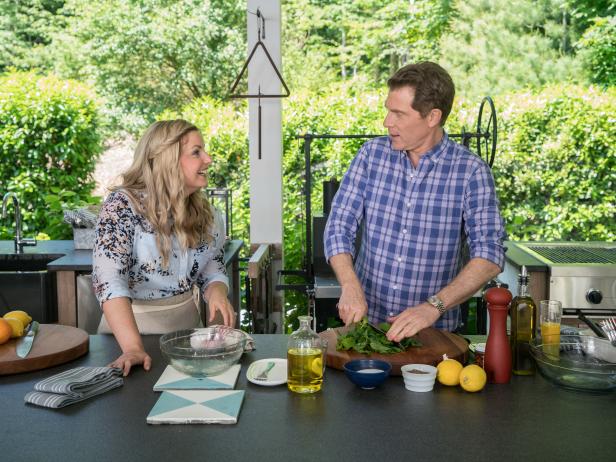 Get the latest details on the all-new series, The Bobby and Damaris Show....