For this Labor Day weekend, Food Network has a great selection of grilling and barbecuing episodes starting with The Pioneer Woman and Trisha's Southern Kitchen on Saturday morning. Afterward the co-hosts of The Kitchen share their best grilling tips with HGTV's Kitchen Cousins.
On Sunday morning Giada De Laurentiis gets a tour of Korea Town in Los Angeles from the king of Korean barbecue. On Bobby Flay's Barbecue Addiction, Bobby focuses on grilling sausages, including beer-glazed bratwursts. On Sunday evening tune in for a new episode of Rachael vs. Guy: Kids Cook-Off in a sandwich-themed episode with guest judge Jeff Mauro. Then watch food truck rookies race into Austin as they try their luck selling to singles on The Great Food Truck Race. On Cutthroat Kitchen Alton Brown auctions off an Italian scooter, which will turn into one chef's creative vehicle, literally.
The Pioneer Woman: Outdoor Cookout, Indoor Grilling
Ree Drummond and her best friend are throwing a poolside girls' get-together. Hyacinth's hosting and Ree's taking on all the cookout favorites, but she's making them inside! There's sticky oven-roasted barbecue chicken thighs, Grilled Vegetables with Cilantro-Yogurt Dressing, Spicy Pasta Salad with Smoked Gouda, Tomatoes and Basil, and for dessert, Vanilla Ice Cream with Peach Syrup.
Saturday 10a|9c
Trisha's Southern Kitchen: Barbecue with a Master
Trisha Yearwood is getting a barbecue lesson from John Cash, 'cue master and owner of her favorite local BBQ joint. Afterward, Trisha heads home to test some of her newfound skills on one of her own brisket recipes. John joins her later to taste all she's cooked up, including Unfried Pickles with ranch dressing, Cooked-to-Death Green Beans and Blackberry Cobbler.
Saturday 10:30a|9:30c
The Kitchen: The Barbecue and Grilling Show
It's all about barbecue and grilling today on The Kitchen, starting off with incredible Dino Ribs and great cuts of pork for the grill. There are new tasty twists on sides and HGTV's Kitchen Cousins stop by. Jeff shows how easy it is to smoke on the grill, and Geoffrey Zakarian makes a delicious bourbon cocktail.
Saturday 11a|10c
Giada at Home: Giada's Korean Barbecue
Giada teams up with the king of Korean barbecue, Roy Choi. Roy takes Giada on an adventure through LA's Korea Town. Then Giada returns home to make Korean BBQ Beef, Spicy Sesame Bok Choy, Vegetarian Korean Noodles (Japchae) and a Kimchi Pancake for Todd and their friends.
Sunday 10:30a|9:30c
Bobby Flay's Barbecue Addiction: Bobby's Basics — Sizzling Sausages
Chef Bobby transforms ordinary grilled sausages into extraordinary sandwiches. His menu features Beer-Glazed Grilled Bratwurst with a Wilted Red Cabbage Slaw and open-faced Grilled New York-Style Sausages with Balsamic Onions and Grilled Tomatoes. And he's cooling things down with a tea-infused bubbly cocktail.
Sunday 11a|10c
Rachael vs. Guy: Kids Cook-Off: Thinking Outside the Bun
In this week's Mini Challenge, the kids have to make whatever they want — as long as the featured ingredient is the one they hate the most! Then in the Main Challenge, Rachael and Guy reveal that the mini chefs must use a sandwich as an inspiration for a multicomponent entree. And who better to judge their dish and Camera Challenge than Jeff, the Sandwich King?
Sunday 8|7c
The Great Food Truck Race: Dinner Dates, Austin Style
This week, Tyler Florence tests the teams on their partnership skills in Austin. The teams are first paired up to sell together all weekend long, and they are then sent for a Match.com event, feeding the hungriest singles in Austin. The next day, the teams must switch trucks and sell their partners' food. The elimination comes down to a $6 deficit.
Sunday 9|8c
Cutthroat Kitchen: When In Rome, Cook on a Scooter
One chef does as the Italians do and cooks while riding a scooter. Next, one chef pays tribute to a 1950s housewife while making a casserole. Finally, one chef goes the distance as he or she navigates a red velvet maze that stands in the way of victory.
Sunday 10|9c
More posts from Joseph Erdos.
Similar Posts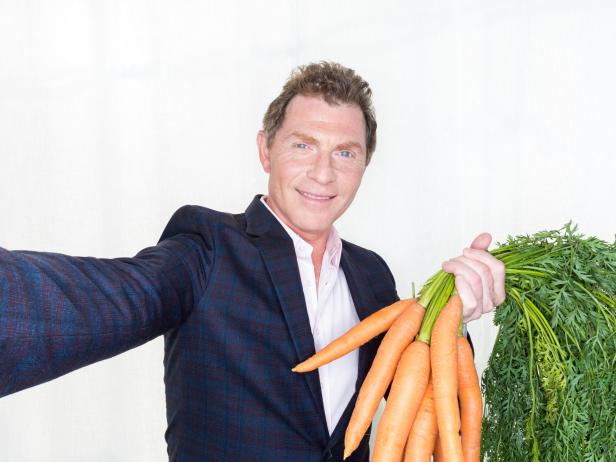 Food Network star Bobby Flay is no stranger to the idea that people want to eat more fruits and vegetables....