From party favorites to inventive new dishes, Food Network has you covered this weekend. First, join Ree and Charlie as they create a picnic-friendly menu on The Pioneer Woman on Saturday morning. Then, take your party to the next level with some help from the hosts of The Kitchen and special guest Sabrina Soto.
On Sunday, learn how to bake bread with Ina and the guru himself, Eli Zabar, on Barefoot Contessa. Next, Bobby's fixing up a fish taco extravaganza on Barbecue Addiction: Bobby's Basics to prove that taco night isn't just for Tuesdays anymore. Finally, sit back and relax on Sunday night with three hours of all-new episodes of your favorite competition shows – Guy's Grocery Games, Food Network Star and Cutthroat Kitchen.
Ree and Charlie, the Drummond's basset hound, have been invited to a pet parade and potluck picnic. Ree's making Roasted Lemon Chicken Legs, Mexican Macaroni Salad, Watermelon Pico de Gallo and Brown Sugar Oatmeal Cookies to take with them to Tulsa.
Saturday 10a|9c
The Kitchen: The Get-Together Show
The hosts of the Kitchen have the goods to make your next party fantastic. Sunny starts with a One-Pan Plan for Pork Loin. Marcela takes puff pastry to sweet and savory heights. Katie, Jeff and Geoffrey make three simple party recipes and then pack them up to survive the ride. Design guru Sabrina Soto offers tips to pull together your get-together, and Geoffrey puts his take on the classic margarita.
Saturday 11a|10c
Barefoot Contessa: Bread and Butter
Ina's on a nonstop bread adventure with her friend Eli Zabar, the bread guru. For lunch there's Fennel and Garlic Shrimp, perfect to eat with his Country Bread. Eli is sharing the secret recipe, and Ina's using it in a delicious Provencal Cherry Tomato Gratin. Then she's assembling a beautiful bread basket, and, in a meeting of their two passions, they're having a bread-and-butter tasting.
Sunday 10a|9c
Barbecue Addiction: Bobby's Basics – Fish Taco Fiesta
Chef Bobby celebrates his favorite dish by revealing his effortless approach for dynamite fish tacos. He's mixing a customized spice rub to use on Grilled Mahi Mahi and balancing flavors and textures with an Avocado Relish with Cilantro Pesto, a Red Cabbage Citrus Slaw and a Smoked Tomato Salsa Yogurt Crema. Then, he'll cool things down with some fruity Sparkling Aguas Frescas.
Sunday 11a|10c
Guy's Grocery Games: Patiently Weighting
It's a challenge of weighty proportions as the four chefs must make comfort food using no more than five pounds of ingredients. Next, the chefs must incorporate Guy's unusual Grocery List into their noodle dishes. In the final game, two chefs go head-to-head as they shop together, to make their best dish in One Ingredient per Aisle.
Sunday 8|7c
Food Network Star: Promos and Pilots
The final four contestants each shoot a promo for the show they want on Food Network while being coached by Alton Brown, Bobby Flay and Giada De Laurentiis. Bob Tuschman and Susie Fogelson are back to pick the final three, who will make pilots for their shows, which are directed by the toughest star on the network: Robert Irvine! After the episode airs, viewers will be able to vote online and via phone to determine who wins the ultimate prize in next week's finale.
Sunday 9|8c
Cutthroat Kitchen: Two Chefs, One Toga
Alton hands off the Olympic cooking torch and one chef is forced to spice things up when he or she has the regular ginger replaced by sushi ginger.
Sunday 10|9c
More posts from Nikhita Mahtani.
Similar Posts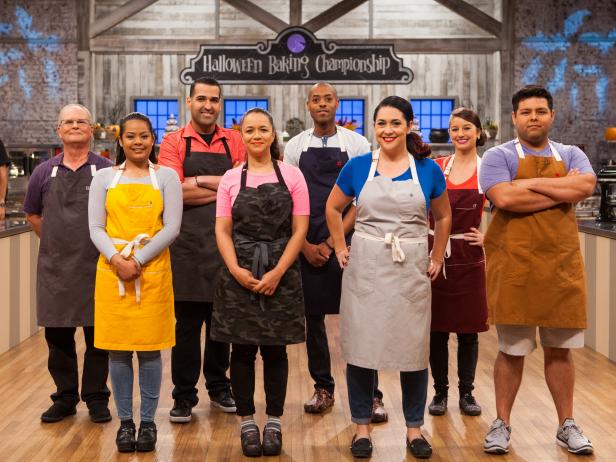 Get the details on the all-new season of Halloween Baking Championship, premiering on Sunday, Sept. 25 at 9|8c....