It's a kid-friendly extravaganza this weekend on Food Network, with shows to appeal to kids of all ages, including burgeoning young chefs.
First, join Ree Drummond on The Pioneer Woman as she prepares a feast for her boys before she leaves for a trip. Next, learn how to cook with your kids from The Kitchen co-hosts.
On Sunday, Ina Garten's planning a cheese-themed menu on Barefoot Contessa and Giada De Laurentiis is creating several recipes for her daughter, Jade, and her friends. Bobby Flay elevates standard burgers and milkshakes on Barbecue Addiction: Bobby's Basics. Next, tune into all-new competition with the season premieres of Rachael vs. Guy: Kids Cook-Off and The Great Food Truck Race, and a new episode of Cutthroat Kitchen.
The Pioneer Woman: Hitting the Road
Ree and her daughters are going on a college tour, so she's stocking up the fridge and freezer for the guys. She's leaving them with a Breakfast Burrito Kit, Pasta Alla Ladd, Raw Veggies with Chipotle Ranch Dressing and Cookies and Cream Cups for a treat.
Saturday 10a|9c
The Kitchen: Cooking with Your Kids
The Kitchen co-hosts offer up fun new ways to cook with your kids. Katie Lee, Jeff Mauro and Geoffrey Zakarian offer up kid-friendly one-stop snacks. Marcela Valladolid makes food crafts — fun to make and to eat. The gang reveals treats sweetened with healthy ingredients that the kids will love. Then, the hosts put their culinary word knowledge to the test.
Saturday 11a|10c
Barefoot Contessa: Best of Barefoot – Cheese
Ina's on a cheese adventure and sharing her favorite cheese recipes. On the list, there's a show-stopping Spinach and Cheddar Souffle, the Ultimate Grilled Cheese, speedy cheese canapes, cheesy straw and hay pasta and two incredible baked-cheese crowd-pleasers: Baked Brie and Baked Fontina.
Sunday 10a|9c
Giada at Home: Kids in the Kitchen
Giada is joined in the kitchen by her daughter and her friends for a kids' cooking class. The kid-friendly menu features Pizza Popcorn, Green Spears and Ham, Snap Pea and Parmesan Salad and Pound Cake Cutout Sandwiches with Strawberry Whipped Cream.
Sunday 10:30a/9:30c
Barbecue Addiction: Bobby's Basics – Burgers, Fries and Shakes
Bobby is grilling an all-American menu and breaks down his essentials for creating a simple and delicious custom burger bar. His menu features beef and turkey burgers with horseradish mustard and chipotle ketchup, Russian Dressing Slaw and Grilled Sweet Potato Fries with Honey Mustard-Mint Dipping Sauce. And where there's a burger, there must be a shake, so Bobby mixes one up inspired by peach cobbler.
Sunday 11a|10c
Rachael vs. Guy – Kids Cook-Off: Street Food Showdown
Eight talented young chefs enter the RvG Kids kitchen ready to prove they've got what it takes to win their own Web series on FoodNetwork.com. To pick teams, Rachael and Guy give the kids their first Mini Challenge, where they're tasked with making a family-favorite meal. Once the teams are selected, it's time for the Main Challenge, where the kids will have to create their own unique street food offering, and present it in their Camera Challenge, judged by Chef Wolfgang Puck and his family.
Sunday 8|7c
The Great Food Truck Race: Venice Beach Brawl
Host Tyler Florence welcomes eight new teams of aspiring food truck owners to Santa Barbara, Calif., where they must first define their brands and create a signature dish for an afternoon of sales. Then, Tyler sends them to Venice, Calif., where the owners of Los Angeles' top food truck will taste each team's signature dish. The seven surviving teams realize they're in for the ride of their lives as they continue to battle it out for the grand prize of $50,000 and their very own food truck!
Sunday 9|8c
Cutthroat Kitchen: Superhero Sabotage
One chef enters a phone booth and attempts to transform into a super chef. Next, two chefs get cozy in Alton's living room circa 1974, and then one chef attempts to ride a bike in the kitchen.
Sunday 10|9c
More posts from Nikhita Mahtani.
Similar Posts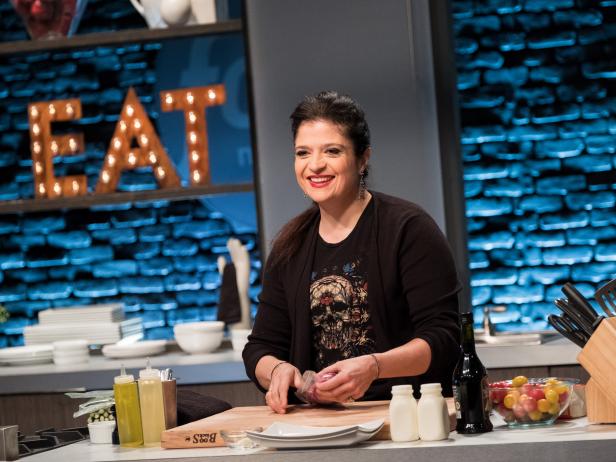 Get all the details on the upcoming premieres this weekend on Food Network....