Opening The Soda Fountain by Gia Giasullo and Peter Freeman is like taking a step back in American culinary history. The book takes you on a fascinating tour of the American soda fountain, a traditional establishment that has roots far deeper than a lot of the cola drinkers and ice cream lovers of today realize. It hits the mark of being "a slice of history with a double scoop of how-to."
The Soda Fountain is divided into two primary sections, Stories and Recipes. The Stories chapters take you through the evolution of the soda fountain as an American culinary institution, from its first days as a pharmacy staple (yes, you read that right) through its Golden Age and into the Great Depression, right on to its second coming in small shops around the country. The stories are fun and charming, featuring tales of jazz and Prohibition. You get the sense as you flip through the pages that Giasullo and Freeman love and respect American food history as much as they appreciate a well-made ice cream float.
As for the recipes, The Soda Fountain does not disappoint. The chapters touch on getting started, syrups and sodas, floats, egg creams, sundaes, milkshakes, toppings and baked goods. Each chapter is studded with fun facts about the origins of some of your favorite classic sips, like the Cherry Lime Rickey. The shakes, sodas and sundaes call for the syrups you'll find earlier in the book, but the syrup recipes alone make this book worthy of space on your shelf. You can, of course, always compose one of their sundaes (and if you do, I recommend heartily the Berry Shortcake Crumble, AKA The Mother of All Sundaes) or build one of their super-satisfying milkshakes (give the Purple Cow a try; recipe below). The syrups are so delicious that they easily stretch beyond the pages of the book to pump up flavors in other classic desserts, drizzled over a bowl of summer berries or as a way to breathe new life into your homemade-seltzer routine. Or as the book suggests, up your cocktail game with some of their adults-only recipes. You can order your copy of The Soda Fountain here.
Purple Cow
Makes 1 float
1/4 cup Concord Grape Syrup (recipe below)
1 1/4 cups plain cold seltzer
1 scoop vanilla ice cream
Pour the syrup into a fountain glass and add seltzer until the glass is two-thirds full. Stir gently with a soda spoon to combine. Then, scoop a very firm 4-ounce ball of ice cream and "hang" it on the inside rim of the glass. Add the remaining seltzer to fill the glass. Serve immediately.
Concord Grape Syrup
Makes about 5 cups
Concord grapes are an early fall crop that show up in New York farmers markets in the latter half of September. Although they were developed for the New England climate, they're grown all over the United States (although mostly in the northern states). Unless yours is a very large or sophisticated grocery store, you will probably not find Concord grapes on its shelves. Farmers markets are your best bet, followed by health food stores that carry a good selection of produce.
Chances are you don't have a bottle of orange flower water hanging around in your pantry, as it's not a commonly used ingredient in this country. If you need to locate some, try a store that has a well-curated herb and spice section. If you can wait for it to be shipped, it can be found easily enough online. (What to do with the rest of bottle once you've made grape syrup? Splash it in your bath. No kidding. It smells heavenly.)
3 1/2 pounds fresh Concord grapes, stemmed
1 3/4 cups cane sugar
2/3 cup water
5 teaspoons freshly squeezed lime juice
1/4 teaspoon orange flower water (optional)
Place the grapes, sugar, the 2/3 cup water, and lime juice in a saucepan. Bring to a boil over medium heat. Decrease the heat and simmer, uncovered, for 10 minutes, stirring occasionally. Remove from the heat, let cool for 10 minutes, and stir in the orange flower water.
Place a strainer over a bowl and pour the grape mixture into it in manageable batches, using a wooden spoon to mash the mixture against the mesh of the strainer. Discard the seedy mash that remains in the strainer. Let the syrup cool to room temperature and chill before using.
Store the syrup in covered glass jars or plastic containers in the refrigerator for up to 2 weeks, but watch it, grapes do ferment! The syrup may also be frozen in plastic containers for up to 3 months. If frozen, allow to thaw in the refrigerator overnight before using.
To make a Concord grape soda, fill a 12-ounce glass halfway with ice, add 1/4 cup of Concord Grape Syrup, top with seltzer, and stir gently with a soda spoon to combine.
Reprinted with permission from The Soda Fountain by Brooklyn Farmacy and Soda Fountain, Inc. copyright (c) 2014. Published by Ten Speed Press, an imprint of Random House LLC.
More posts from Mallory Viscardi.
Similar Posts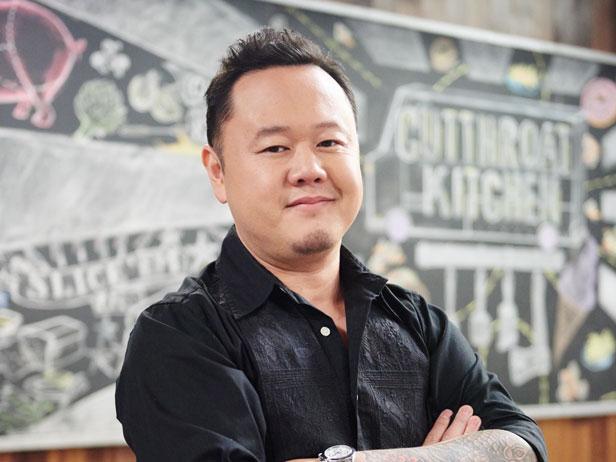 Find out how you can enter to win a copy of Jet Tila new cookbook....