If you have a family to feed, I have the cookbook for you. Laurie David's The Family Cooks was written with the goal of assembling delicious, nutritious meals that will keep everyone at your table full and happy, and I'm not exaggerating when I say I think it knocked it right out of the park.
Overall, the most-enjoyable thing about the book is its empowering message and tone. It encourages readers to take their family's food choices into their own hands. It gives you all the information you need to make delicious snacks, meals and treats at home. The recipes are sympathetic to both the time and budget constraints many families face today without shortchanging flavor. It has a fail-safe guide to get you in and out of the grocery store in one piece, an ingredient rundown that'll have you cooking with more flavors in no time, and a buy-and-store guide that'll help you cut down the amount of food you purchase and then discard because it's past its prime. The recipes in the book are broken down by course, starting with breakfast and working through lunch, soups and salads, dinner, snacks and drinks, sides, condiments, and sweets.
Perhaps the most-intriguing thing about The Family Cooks is that the recipes are so approachable for kids. I don't just mean it'll get them excited to eat the food (although, with recipes for dishes like Purple Power Smoothies, it's easy to get excited about the food). The book is just teeming with tips and tricks to get the whole family participating in and enjoying the planning, making and eating process. And don't let the kid-friendly demeanor of the title fool you: Grownups at your table are going to relish these dishes as well. In the spirit of having fun with food as a family, give Ravioli Cupcakes a try and get a taste of The Family Cooks. You can also order your own copy here.
Ravioli Cupcakes
If you think about it, a ravioli is already a mini-layered lasagna. All it needs is some vegetables, sauce, and cheese, and another layer of the same, then … ta-da! A ravioli cupcake lasagna.
Makes 12 "cupcakes"
Total Time: 50 minutes
Prep: 30 min
Baking: 20 min
3 tablespoons olive oil
1/2 medium onion, diced
2 garlic cloves, minced
8 ounces frozen spinach or kale, thawed and squeezed dry
24 large vegetable ravioli (round ones fit best into muffin tins)
1 egg, lightly beaten
1/2 cup grated Parmesan cheese
4 cups of your favorite tomato sauce
1 1/2 cups grated melting cheese, such as mozzarella, Fontina, or Monterey jack
Line 12 cups of a muffin tin with foil liners. Preheat the oven to 400 degrees F and position the rack in the middle. Bring a big pot of salted water to a boil.
While waiting for the water to boil, heat up a skillet over medium heat. Drizzle in 2 tablespoons of the olive oil, and throw in the onion and garlic. Let them sizzle until golden, 3 to 4 minutes. Add the spinach and cook the vegetables for another moment, then slip it all into a bowl and let cool.
Boil the ravioli for half the amount of time their directions call for. Drain them well and gently toss with the remaining 1 tablespoon olive oil. Fold the egg and Parmesan into the spinach.
Spoon 1 tablespoon tomato sauce into each of the 12 muffin cups. Drop a ravioli on top, top with 1 tablespoon each of spinach and melting cheese, then a dollop of tomato sauce. Tuck a ravioli on top, add another dollop of tomato sauce and sprinkle with melting cheese. (The rest of the tomato sauce gets heated up separately.) Slide the muffin tin into the oven and bake until hot and bubbling, about 20 minutes.
Heat up the remaining tomato sauce in a small saucepan and serve on the side.
Kids in Charge
Squeeeeeze the spinach with your hands 'til it's dry.
Crack the egg into a small cup and whisk it with a fork.
Layer the lasagna and tuck the ravioli into bed.
Play with It
Use Bolognese sauce instead of the tomato sauce.
Replace the spinach with chopped, cooked broccoli.
Add a little fresh goat cheese or a spoonful of pesto to the spinach.
Cook's Tip
On lazy days, skip the muffin tins and just layer the ingredients in a baking dish.
Reprinted from The Family Cooks by Laurie David and Recipes by Kirstin Uhrenholdt. © 2014 by Hybrid Nation Inc. By permission of Rodale Books. Available wherever books are sold.
More posts from Mallory Viscardi.
Similar Posts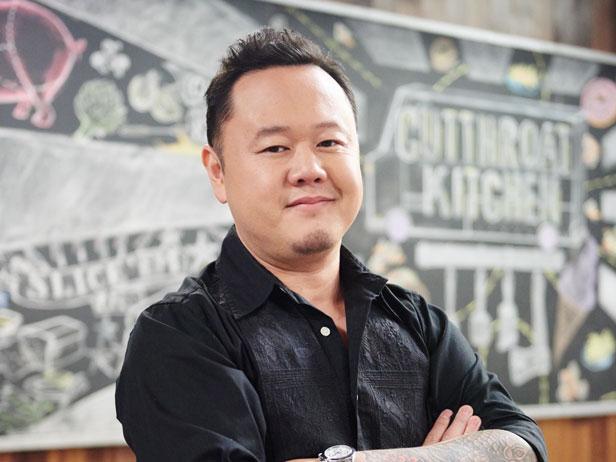 Find out how you can enter to win a copy of Jet Tila new cookbook....