While taking a pint to the face with your latest batch of reruns might be your go-to ice cream routine at home, the scoop scene gets a whole lot more interesting when you leave the couch and take a drive. These days, scoop shops everywhere boast a new generation of frozen delicacies behind the glass, with everything from ice cream to gelato to sorbet coming with an artisanal edge. This summer, embark on an ice cream road trip, and find out where to get great ice cream — and gelato and sorbet — from coast to coast.
If you find yourself in Santa Monica, California, the salty-sweet Bacon Caramel Sundae at Sweet Rose Creamery (cones pictured above) cannot be missed. And for those looking for something a bit more kosher, the creamery also boasts seasonal scoops like Rose Geranium with Raspberry Ripple ice cream, as well as Olive Oil and Strawberry sorbet.
We're all about the journey, but maybe a trip to Italy for a scoop of gelato is a little much. Take a detour to Philadelphia, where Capogiro Gelato Artisans makes fresh batches of creamy, seasonal gelato every morning. With a name translating to "dizziness" in Italian, the shop has created 27 otherworldly flavor combinations, like Lancaster County Peach for summer and Black Walnut for fall, that will make your head spin with euphoria. If you can't make it out to Philly, rest assured that the owner ships overnight to all 50 states.
Die-hard cone lovers should take a sharp turn west, to Churn in Phoenix. Here, you can order a scoop on a crunchy, salt-speckled pretzel cone, which marries sweet and salty in one fell swoop. If you love a good root beer float but are looking to expand your horizons, the shop's spiced-up Caramel Apple Float is just the thing
Make your way to Columbus, Ohio, for a scoop of The Milkiest Chocolate in the World – among other things – at Jeni's Splendid Ice Cream. When it comes to their ice creams, frozen yogurts and sorbet, Jeni's is all about time-tested quality. If you can't make the trek, you can find Jeni's by the carton in gourmet freezer aisles near you.
Have a hankering for more ice-cold goodness? Head to Food Network for the full list of great ice cream spots from coast to coast.
More posts from Allison Milam.
Similar Posts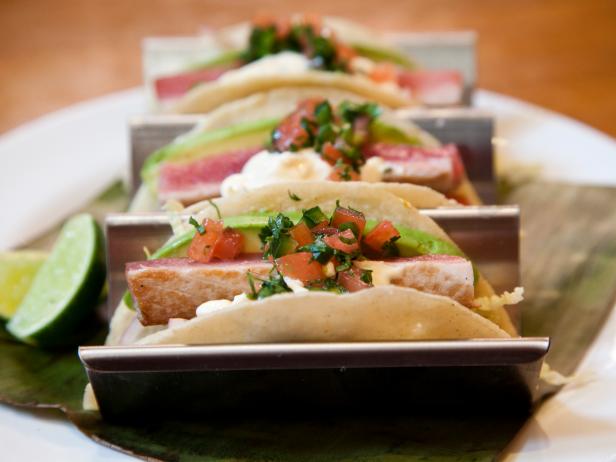 Hip spots are shaking up Magic City's Mexican-food scene with bold fillings and housemade tortillas....