Fried chicken is tempting all year long, but our cravings for it intensify in the summer. Something about digging into juicy, crispy chicken with our hands, preferably while sipping a cold beer or lemonade, just puts us in a summer state of mind. You don't need to be outside on a picnic blanket eating Grandma's homemade chicken to achieve this. Once a Southern specialty, fried chicken has made its way onto restaurant menus across the country. Chefs from Philly to San Francisco are brining, buttermilk-soaking, boldly spicing and frying it up, with winning results. Here's where you'll find FoodNetwork.com editors' favorites. Whether they're served with cream gravy and collards or Sriracha and kimchi, these birds all have one thing in common: They're downright irresistible.
Check out the full gallery and let us know your favorite spots for a fried chicken fix in the comments below!
Atlanta: Watershed on Peachtree
The menu changed when this beloved institution moved a few years ago, but the fried chicken recipe never will. On Wednesday nights, locals show up early for birds that are salt-brined for two days, buttermilk-soaked for another 24 hours and then, on the fourth day, fried in lard, butter and ham. The uniquely porky chicken is served alongside biscuits and family-style sides. One bite and you'll see why they tend to run out by 7:30.
Dallas: Babe's Chicken Dinner House
The original Roanoke, Texas, location has expanded to several Texas towns, but the quality of Babe's fried chicken remains consistent. Some outposts have expanded menus, but locals know it's all about the golden-brown, juicy chicken with cream gravy and a side of buttermilk biscuits.
Miami: Yardbird Southern Table & Bar
With a name like Yardbird, the skillet-fried chicken at this South Beach restaurant better be good. And it is. The secret "27-hour" recipe yields supremely tender meat and crispy skin. Try it tucked into buttermilk biscuits with pepper jelly, or enjoy it as a main plate with Tabasco-spiked honey.
Nashville: Prince's Hot Chicken
Nashville fried chicken is its own subspecies of the Southern tradition: They like it hot. At Prince's, fall-off-the-bone chicken comes in four heat levels, and even the mild version has a kick. Graduate to medium, hot or extra-hot (we warned you!) and you'll be grateful for the cooling dip of ranch dressing and a pile of napkins to wipe the tears from your eyes. The fiery spice blend is a closely guarded secret.
New York: Momofuku Noodle Bar
When you book a table for Momofuku's epic fried chicken feast, a parade of condiments arrives first: mu shu pancakes, Bibb lettuce, shiso leaves, crunchy radishes and sauces ranging from spicy bibim to savory-sweet hoisin. They're all accompaniments for the main event: a towering pile of fried chicken prepared two ways, Old Bay-spiked Southern and triple-fried Korean.
Philadelphia: Federal Donuts
Chef-owner Michael Solomonov's ode to the deep fryer has just three items on the menu: doughnuts, fried chicken and coffee. Customize your twice-fried, Korean-style chicken with a choice of dry seasonings (try the Middle Eastern za'atar) and glazes (chili-garlic or honey-ginger). Each order comes with a handmade honey doughnut.
San Francisco: Brenda's French Soul Food
New Orleans native Brenda Buenviaje's cozy cafe is a cult favorite for brunch, when San Franciscans line up to chow down on her Southern-accented fare, like fried chicken eggs Benedict with Creole hollandaise. That secret-recipe chicken can be found as B.F.C. (best fried chicken) on the lunch and dinner menus, served with hot pepper jelly and a biscuit. The title may be self-imposed, but it's well-deserved.
Check out the full gallery of Great Fried Chicken from Coast to Coast.
More posts from Sara Levine.
Similar Posts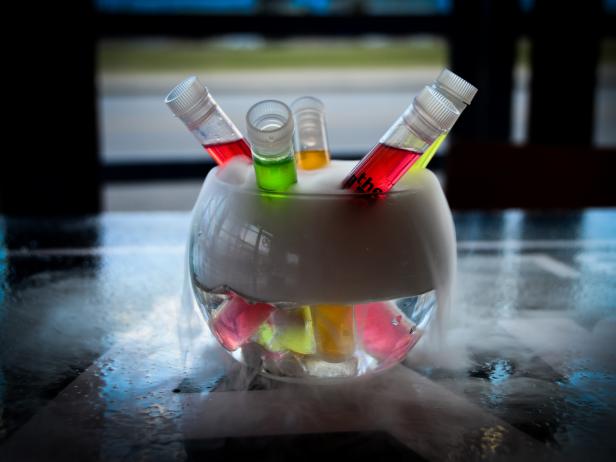 To celebrate the total solar eclipse, restaurants and bars are adding a bit of starry magic to their menus with items inspired by this rare celestial ...