Southern California was the starting point for the food truck rookies on this past Sunday's premiere of The Great Food Truck Race. Like many seasons before, the cross-country competition began on the West Coast, but this time, Santa Barbara, Calif., was city number one. Before anyone could get settled, a surprise Speed Bump moved the eight new teams to Venice, the hometown of team Beach Cruiser. Although it seemed like a truck selling healthy SoCal food would be a shoo-in, Lone Star Chuck Wagon, the team from Texas, ended up snatching the highest sales. Go figure!
Whether you're looking for SoCal favorites like tacos, seafood and sushi or something unexpected like barbecue, we've narrowed down the restaurant offerings to the top 10 from the area, which include all the offerings mentioned above.
Lito's Mexican Restaurant — Santa Barbara, Calif.
The authentic Mexican recipes make the food at this family-operated restaurant irresistible. Their famous carnitas can be ordered in a taco, burrito, enchilada or torta. The pork stew pozole is also a customer favorite.
Mac's Fish & Chip Shop — Santa Barbara, Calif.
A British couple visits California and what do they decide to do? Start a British comfort-food shop! The shop uses wild Alaskan cod for its famous fish and chips. The bangers with a side of mash are also a classic dish worth trying. If you're feeling brave, go for the fried haggis balls.
Norton's Pastrami and Deli — Santa Barbara, Calif.
Norton's is bringing East Coast pastrami to the West Coast, and it's being cooked six different ways. The pastrami dog is a massive meal: a quarter-pound hot dog topped with pastrami and sauerkraut. The PLT with crispy pastrami, lettuce and tomato is a tasty spin on an old classic.
Cold Spring Tavern — Santa Barbara, Calif.
Established in 1865, Cold Spring Tavern came from a time of stagecoaches. Today, bikers line up for the Bar-B-Q Beef sandwich. Made with hunks of tri-tip beef, barbecue sauce and spicy salsa, the sandwich satisfies anyone's hankering for the perfect meaty bite.
Baby Blues BBQ — Venice, Calif.
Southern California maybe isn't the first place someone would think of when looking for great barbecue, but Baby Blues BBQ in Venice Beach smokes their pulled pork for 16 to 18 hours. They also make their own XXX hot sauce with Scotch bonnet and poblano peppers.
Zelda's Corner — Venice, Calif.
Zelda's offers mini doughnuts for the insanely low price of $6 for 30. Located on the Venice Beach Boardwalk, the restaurant makes perfect beach food with nearly two dozen sandwich options, including the Vermonster panini made with apple and bacon.
Hamasaku Restaurant — Los Angeles
The first sushi bars in the country opened in L.A., and it seems the city now has a sushi bar on every corner. But Hamasaku's modern sushi has been an instant crowd-pleaser. Newcomers will want to try the crowd favorite: Charlize tacos made with fried wonton skin.
Gloria's Cafe — Los Angeles
Since 1981 Gloria Flores has been sharing her traditional El Salvadorian cooking with adoring L.A. locals. Try the Adobada, a pork stew with a rich tomato sauce. The Seven Seas soup, brimming with crab legs and shrimp, is also worth trying.
Mom's Tamales — Los Angeles
For delicious homemade tamales, drop by Mom's Tamales and sample one of eight options, all steamed and using scratch-made batter. The corn and cheese, chicken mole and beef tamales are particularly noteworthy. Also worth a try: specialties like stuffed peppers, queso fresco and sopes asadas.
The Lime Truck — Los Angeles, Calif.
The Lime Truck's concept is to create fresh, healthy and accessible food. Try the slow-roasted pulled-pork fries drizzled with chipotle honey, or the refreshing raspberry-lychee limeades. And if that isn't proof, The Lime Truck drove straight to number one on Season 2 of the Great Food Truck Race.
Find more recommended restaurants around the nation with Food Network On the Road.
More posts from Joseph Erdos.
Similar Posts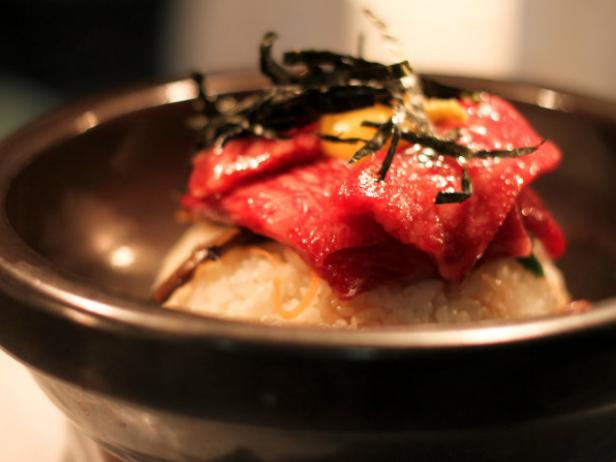 New Yorkers may be a bit of a skeptical bunch, but many leave their doubts at the door when indulging in omakase at their favorite sushi spot....