The
Chopped
judges have always had their place behind the judging table, but when there's an opportunity like
After Hours
, allowing them to come out from behind and get in the kitchen, they're happier than pigs in mud. Ted points out that "rather than watching from the sidelines, complaining about other people's cooking," the judges can be front and center. But Scott doesn't leave it at that, and he jokes, "Now it gives people the opportunity to complain about our cooking." But considering how great the basket is, they're more excited than usual to get cooking: "I'm dying to cook this. I'm really antsy and raring to go," he says.
"This is not the little piggy that went to market," says Ted. "This is the star of our food truck and food cart entree round." Amanda, Aarón and Scott are taking on the ingredients from tonight's episode: whole suckling pig, fiddlehead ferns, kebab sauces and corn tortillas. All the judges are excited to work with the basket, as Amanda points out, "because there are so many options." Scott, though, jokes that Aarón is probably going to make tacos because there are tortillas — and, well, Scott's right.
Inspired by the Yucatán, Aarón makes cochinita pibil tacos. What makes his dish so amazing is the texture he got by roasting the skin again. He also tempura fried the fiddleheads. Besides that, Scott says, "There are a lot of layers of flavor in there." Amanda, like Aarón, goes a Mexican route, frying up the tortillas to layer with the pork and a tomatillo salsa for a modernized take on chilaquiles, which really impresses Aarón to Amanda's surprise. He tells her they're the best he's had and that her contemporary version is "is like a huge compliment you're giving such a humble dish." Scott used the tortillas like Italian flatbreads, or piadina, on which he layered the pork with chopped-up fiddleheads and a sauce he made out of the bones. "You really amped it up with pork parts," Ted tells him.
Watch the video above and browse behind-the-scenes images for an insider's look at the cooking.
Start a conversation with fellow fans and tell FN Dish in the comments below how you would have approached this basket: What would you make out of whole sucking pig, fiddlehead ferns, kebab sauces and corn tortillas?
Catch up on past Chopped After Hours episodes by watching all the Web-exclusive battles online.
More posts from Joseph Erdos.
Similar Posts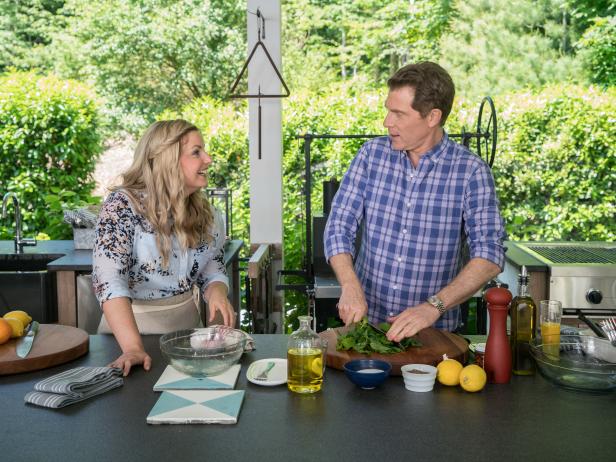 Get the latest details on the all-new series, The Bobby and Damaris Show....