Amid getting meats prepped for the grill and making sure cold cocktails are readily available, the last thing you want to worry about while entertaining in the summer is a big, fancy dessert. And to be honest, after all those cocktails, no one is going to fully appreciate that spun-sugar garnish you spent three hours on anyway. So keep things simple. And nothing is simpler than a sweet treat you can make ahead of time and pop in the freezer until it's time to serve. These recipes utilize bold flavors that hold up well in the icebox, so you and your guests can indulge while keeping cool.
Frozen Key Lime Pie
Ah, what a classic. Summer is the peak of lime season, so this is a great way to showcase the freshest citrus of the year. A graham cracker crust is the perfect bed for the creamy lime filling, adding a bit of sweetness to balance all of the flavors. It takes just 25 minutes to prep and bake, then pop it in the freezer overnight. Plus, think about how much easier it is to divvy up and serve a pie that's frozen rather than falling all over the place.

Spiked Watermelon Pops
It's like all of our summer favorites in one! Filled with fresh watermelon and mint, these pops are about as refreshing as they come. Not to mention, they're spiked. If you want to make the kids their own batch, replace the vodka with orange juice.

Maple-Bacon Crunch Ice Cream
This one requires a little more effort while you're actually preparing it. But if you make it the day beforehand, it just gets better! After you serve this buttery, sweet and lightly salted creation, family and friends will never stop talking about that ice cream. Just be prepared for a few responses like: "Bacon? In ice cream?"

Black Forest Pancake Ice Cream Sandwiches
Ice cream sandwiches have been seeing a lot more attention lately. Who wouldn't love a big slab of ice cream between two delectable cookies? This recipe takes it one step further, replacing the cookies with mini chocolate pancakes. Using pancakes rather than a cookie keeps the whole creation nice and delicate, while granola around the edges gives it a crunch. And once you master this technique, you can start brainstorming your own flavor combinations.

Frozen Chocolate Coconut Rum Bananas
Even though this looks sinful (and tastes like a little slice of heaven), it's actually pretty good for you. Bananas, dark chocolate and coconut pack in nutritional value while a little rum spices things up a bit. And if you leave out the rum, you can set up different toppings for the kids to add on themselves.

More posts from Ricky Smith.
Similar Posts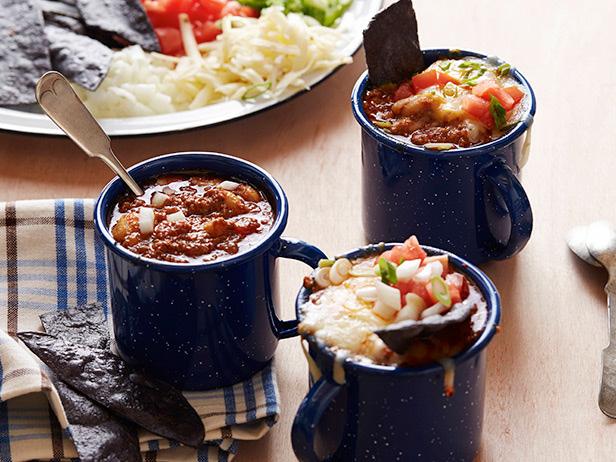 When March Madness means you can't pull yourself away from the screen, these dishes easily travel to the couch with you....