With the backyard barbecues, shoeless picnics and pool parties of the Labor Day long weekend comes the realization that summer is, all of a sudden, coming to a close. Soon enough, we'll be trading sandals for socks, summer camp for school and iced coffee for the hot stuff. Rather than wallowing in the end-of-summer blues, think of it as an excuse to end the season on a sweet note with Food Network's collection of Labor Day desserts.
While we're still hauling blueberries home by the crateful, spare two cups for Food Network Magazine's Blueberry Cheesecake Galette (bottom right). Coupled with a smooth, slightly sweet cream cheese layer, juicier-than-ever berries burst open with pent-up lusciousness when they're popped into the oven.
Similarly, late-summer blackberries need little more than what's going on for them to become a noteworthy dessert. Resist doing anything too crazy, and simply cover the tangy berries with a no-fuss crumble of flour, brown sugar and butter for Fresh Blackberry Crisp (top left).
Any other time of year, a sprinkled, fudge-drenched banana split would be accepted with spoons at the ready. But on Monday, Food Network Magazine's summer-worshiping Strawberry Shortcake Sundaes (top right) are even more well received, with a scoop of vanilla ice cream atop warm strawberries and a buttery biscuit.
When you cut into Alex Guarnaschelli's Warm Grape Cake (bottom left), you'll find that the inside is studded with poppable red grapes and sweet, shriveled golden raisins. Don't serve a slice without the ginger-and-honey-spiked grape topping and obligatory dollop of freshly whipped cream.
Part of the beauty of a day off is the casual air of it all, be it donning no more than a swimsuit or opting for flip-flops in lieu of dress shoes. In this spirit, whip up a dessert that's equally laid-back: old-fashioned Whoopie Pies. These cream-filled crosses between mini pies and sandwiches don't need utensils and can be made up to a week ahead. Think of that as a summer win.
Get more Labor Day-inspired recipes from friends and family:
Feed Me Phoebe: Hot Crab Dip with Jalapenos and Scallions
The Heritage Cook: Four Sauces Designed for Grilled Foods (Gluten-Free)
Jeanette's Healthy Living: Grilled Brined Chicken with Homemade Barbecue Sauce
Dishing with Divya: Baked Vegetable Sacks
Virtually Homemade: Roasted Summer Vegetables with Lemon Tahini Dressing
Weelicious: Heirloom Tomato Salad
Elephants and the Coconut Trees: Peach and Blueberry Baked Fruit Pizza
Devour: Cooking Channel's Ultimate Labor Day Party Menu
Dishin & Dishes: Grilled Chicken with Board Sauce
Napa Farmhouse 1885: Heirloom Tomatoes and Two Rice Salad
Domesticate Me: 10 Fabulous Summer Recipes for Labor Day
Taste With The Eyes: "End of Summer Rolls" Caprese-Style
FN Dish: Day-Off Desserts for Labor Day
More posts from Allison Milam.
Similar Posts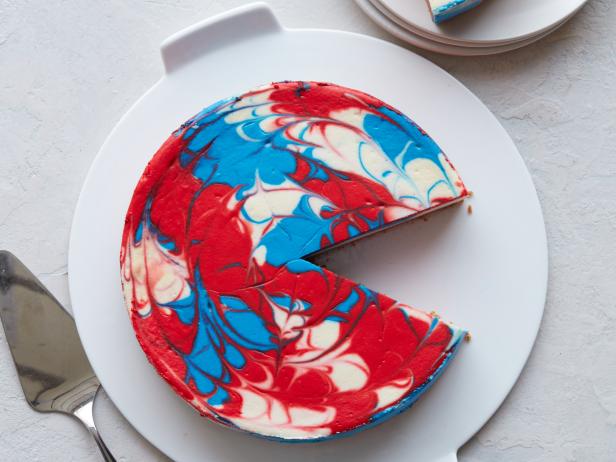 This week, our social feeds were inundated with red, white and blue....