Your alarm clock gets the credit (or perhaps the disdain) for waking you up, but for many of us, it's really that first cup of coffee that does the heavy eyelid lifting. A new product from British designer Josh Renouf, a recent graduate from Nottingham Trent University, aims to combine clock and coffee in one handy, attractively designed device that wakes you up to the soothing rumble of ball bearings working to boil water using induction heating and the rich smell of coffee — one cup, just for you, freshly brewed right on your bedside table.
The Barisieur — a name Renouf hopes will evoke both "your own personal barista" and coffee that will please the most-particular coffee connoisseur — won't be available for purchase until early next year (with an estimated retail price of about $420), but it is already making a splash in the press. Sounding somewhat overwhelmed by the surge of interest, Renouf found time to answer a few of our burning coffee/alarm clock questions via email.*
What were your goals in designing the Barisieur?
I wanted to engage the user with the product and to expose the process so it would stimulate all the senses: the sound and sight of the boiling, the smell and taste of the fresh coffee.
What were the challenges?
I wanted to come up with a safe way of boiling the water. Induction heating does not make the surface hot. It creates an electromagnetic field, which conducts the ferrous material above. After a lot of experimenting, I found that the stainless steel ball bearings (yes, they conduct) acted well and actually created a nice natural alarm once the water boiled.
Why does the world need the Barisieur?
Everyone has adapted to such a fast pace. We're constantly glued to our phones and laptops. I wanted something that would encourage a ritual before going to bed, to actually make people put their phones and laptops down — especially seeing as staring at a screen before bed makes you more awake — signaling to the body it is time to unwind and relax.
Also, I thought this could bring happiness to people's mornings, give them something to look forward to. Who does not like to wake up to a fresh cup of coffee or tea in the morning? The Barisieur can create a mean cup of tea as well.
So you're not worried that the smell of ground coffee may wake people up before they go to sleep at night?
I actually researched the smell of ground coffee, and it is actually meant to act as a de-stresser. This is something that I was conscious of when designing it, so the user also has the option to set the boiling vessel at a delay so that you could get the ground coffee from the drawer before the alarm goes off if you preferred. The buttons on the side offer the user options: Make the coffee brew five to 30 minutes before the alarm goes off, on the alarm, or five to 30 minutes after it goes off. This allows the user to snooze or allow it to brew and cool down before they actually get up. The knobs at the front allow the user to snooze (as there is an alarm that goes off as well) — for all those heavy sleepers out there. There is also a "Make" button that allows the user to switch the contraption on like a kettle, to make there and then. I wanted to give the user a lot of options.
How does it keep the milk cold?
The milk is sealed with a rubber bung and hidden away, so it does not spoil. I also incorporated a fan next to the induction heating element and the milk to add an extra cool temperature.
Does it also play music, like a clock radio?
Having a radio was a big consideration to the design, but I did not want to over-complicate it, and I think the induction heating elements would have disrupted the radio signal. However the Barisieur does have a USB point to charge one's mobile device whilst they sleep.
I notice you've also designed a new kind of bedside lamp. Are you planning to improve the objects on our bedside table, one at a time?
Hahaha! I have some of my best ideas when I am lying in bed, I guess! I just realize how important sleep is and how much people are lacking it these days and wanted to improve it.
*Answers have been edited and condensed.
Photo courtesy of Josh Renouf Design.
More posts from Amy Reiter.
Similar Posts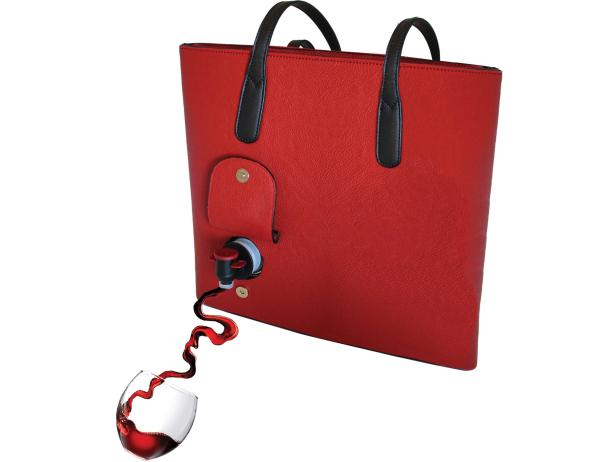 Wouldn't it be great if a spout suddenly materialized from your fetching purse and began dispensing the wine of your choice? Wait until you see this...