Whether you're craving a treat to pair with your morning cup of coffee or you want to indulge in a comforting dessert, look to doughnuts to satisfy your sweet tooth once and for all. These tried-and-true beauties are endlessly versatile, and while you may have enjoyed them only from the local bakery, they're indeed possible to master at home. Start with a classic recipe for the batter, then dress up the doughnuts with cinnamon-sugar coatings, rich frostings or simple syrups for dipping. Check out Food Network's top-five doughnut recipes below to find sweet inspiration from The Pioneer Woman, Ina Garten, Giada De Laurentiis and more Food Network chefs.
5. Apple Cider Doughnuts — Think of these easy-to-make doughnuts as dressed-up versions of the ones you likely enjoyed at the apple orchard. They're laced with cinnamon and freshly made applesauce, and they boast a sweetened apple cider glaze.
4. Homemade Glazed Doughnuts — Follow The Pioneer Woman's lead and let the batter chill overnight before frying it into doughnuts and doughnut holes. Once they're ready, Ree Drummond dips them into a comforting vanilla glaze for tried-and-true results.
3. Doughnut Holes with Strawberry Syrup — A splash of elderflower liqueur turns strawberry jelly into a dunk-worthy syrup, and it adds a subtle floral flavor to Food Network Magazine's fuss-free doughnut holes.
2. Cinnamon-Baked Doughnuts — While some doughnuts are deep-fried, this quick-fix recipe from Ina features baked pastries instead. She adds more than a cup of whole milk to guarantee an extra-moist finished product, and she finishes each doughnut with a buttery cinnamon-sugar topping for added decadence.
1. Italian Doughnuts — Save time in the kitchen by starting with prepared pizza dough to make Giada's 30-minute sweet treats (pictured above). After frying the dough, Giada opts for one of two toppings: a dusting of cinnamon sugar or a smooth milk-chocolate glaze and crunchy toasted almonds.
More posts from Maria Russo.
Similar Posts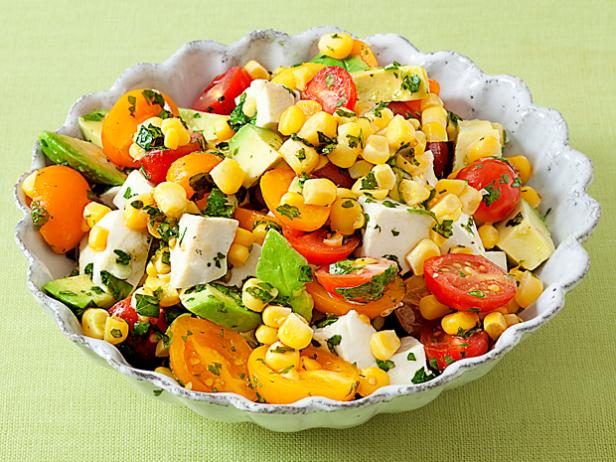 When it's too hot to cook, look no further than these tomato-focused recipes....