Our ridiculously delicious birthday cakes are perfect for celebrating. Whether you're going all-out with Ina Garten's three-tiered hot-pink cake or keeping it simple with a vanilla sheet cake with chocolate frosting, these desserts will elate any birthday boy or girl.
1. Birthday Cake with Hot-Pink Butter Icing
The secret ingredient for Ina Garten's moist cake layers? The addition of sour cream. Bake a 9-inch, a 6-inch and a 3-inch layer, and frost each separately with hot-pink icing. Chill each frosted layer before stacking, then pipe or spoon the remaining frosting around the base of each cake and around the top edge of the top layer before finishing with candy decorations. This is certainly a centerpiece cake that your crowd will remember.
2. Birthday Sheet Cake
Ina's vanilla and lemon-zest cake will be your hardest-working birthday dessert (it's really great for a celebration of any kind). A bit of cornstarch combined with all-purpose flour will approximate cake flour. It all comes together with just 15 minutes' prep time and is then covered in an easy chocolate frosting. Ina melts down chocolate chips for the frosting, but any bar of chocolate works as well. Kids can decorate the finished cake with their favorite chocolate candies.
3. Strawberry Shortcake Cake
Get your kids involved in Ree Drummond's strawberry-filled cake — her girls helped with each of the steps. Slice an 8-inch round in half, and layer on hulled and mashed strawberries (that have sat in a bit of sugar to marinate). To make frosting the cake easier, Ree puts the cake layers in the freezer first for a few minutes. Put parchment on your cake plate before icing with a light and fluffy cream cheese frosting so that you can make a mess when you're applying. Just slide the parchment out when you're done. A topping of fresh strawberries ensures a beautiful presentation.
4. Carrot Cake with Marshmallow Fluff Cream Cheese Frosting
Bobby Flay's carrot cake is moister than most thanks to a secret ingredient: pureed pineapple. It's filled with fabulous spices, like freshly grated ginger, crystallized ginger, cinnamon and nutmeg, plus pecans to pair well with their flavors. Bobby turns traditional cream cheese frosting on its head with the addition of marshmallow Fluff.
5. Todd's Orange and Raspberry Cake
Giada De Laurentiis makes this shortcut cake for her husband's birthday because it's his favorite. Cut down on prep time by starting with boxed white cake mix, then give it a homemade touch by adding orange zest and orange juice. A bit of vegetable oil, which is flavorless, will keep the cake nice and moist. Divide the batter into two cake pans so you can make a two-tiered cake. Giada uses creme fraiche to add a nice creaminess to her frosting — it's similar to sour cream but without the tang and a little bit lighter than mascarpone cheese. Her husband, Todd, loves raspberry jam, so Giada incorporates it into the frosting itself and between the cake layers before topping the finished cake with fresh raspberries.
More posts from Cameron Curtis.
Similar Posts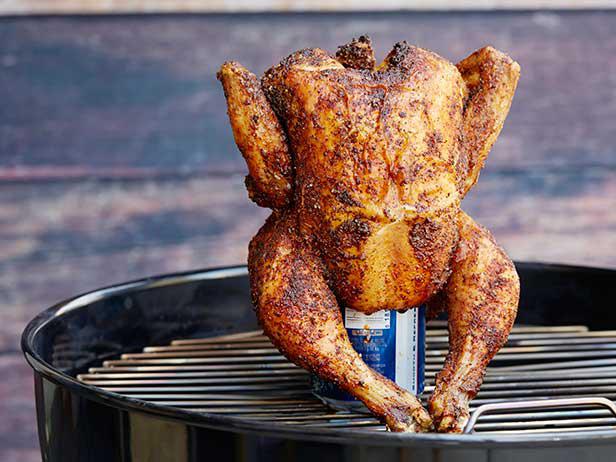 This clever grilling technique is easy enough to perfect even on your first try making it....