Are your kids inspired by the tiny chefs on Rachael vs. Guy: Kids Cook-Off and the impressive contenders from Chopped Teen Tournament? Then it's time to let them get their hands dirty in the kitchen. Food Network Kitchen came up with these easy, satisfying and safe dishes to get them started. Everyone (including parents!) will enjoy eating the final products, like these fun Taco Cheeseburgers.
Little kids can help tear the cheese and measure the salsa, while big kids can help shape and season the beef patties and shred the lettuce. Everyone can assemble his or her own taco.
Pizza Skewers
In this mash-up recipe, pizza meets kebabs on the grill. For little kids: Let them dump the ingredients into the bowl, stir them up and tear the basil leaves over the skewers. For big kids: Let them measure out the ingredients, roll out the dough and thread the skewers.
Oatmeal Cookie Smoothie
This all-in-one milk-and-cookies smoothie makes a nice change of pace for a late-summer breakfast or for an afternoon snack once school starts. For little kids: Let them help press the buttons on the blender. (Be sure to let it run for a full minute before you add the ice so the oatmeal-and-raisin mixture gets as smooth as possible.) For big kids: Let them measure the ingredients — it's the perfect time to teach them the difference between wet and dry ingredient measuring cups.
Roasted Turkey and Basil Cream Cheese Pinwheels
These colorful pinwheels can be made in the morning and kept chilled for an easy lunch or snack. For little kids: Let them wash and spin-dry the lettuce. For big kids: Let them layer the ingredients and roll up the sandwiches.
Watermelon Splits
Cool chunks of watermelon topped with ice cream make a perfect split for these last dog days of summer. For little kids: Let them help mash the berries with sugar. For big kids: Let them measure the ingredients. Everyone can pitch in to build the sundaes.
Check out more fun Food Network recipes to cook with kids.
More posts from Sara Levine.
Similar Posts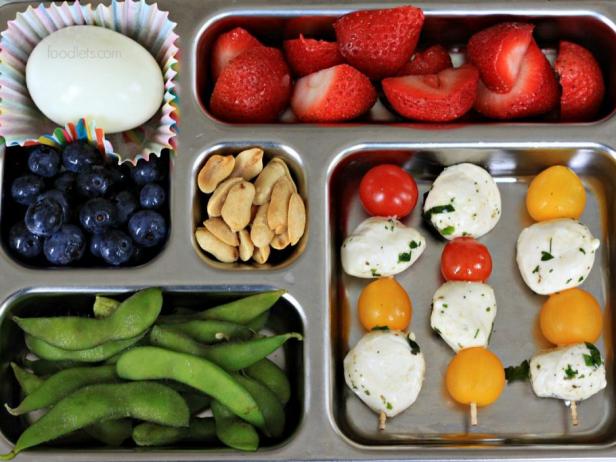 One mom shares her go-to trick for less-hectic weekday mornings....