We would never, in good conscience, recommend that you stand within 50 feet of a bowl of hot soup during the summer months. Sometimes we wouldn't even suggest you kick on the stove at all. But that doesn't mean the soup category is off-limits altogether. This summer, it's all about cold soups — and we're not just talking about trusty gazpacho, either. Use the month of August as a time for experimentation, and transform 10 types of summer produce into cool, refreshing summer soups.
1. Avocado: Creamy without cream, Chilled Avocado Soup (pictured above) is the most luxuriously velvety blend to meet your spoon, with ingredients reminiscent of guacamole, like cilantro, chiles and citrus.
2. Cucumber: Make your summer soups cool as a cucumber, with two recipes that play off the vegetable's ultra-refreshing qualities. Chilled Cucumber Soup by Food Network Magazine incorporates yellow tomatoes and yellow peppers, while Chilled Creamy Cucumber Soup gets extra body from a helping of plain yogurt.
3. Cantaloupe: Start revving up that blender of yours for Alex Guarnaschelli's Cantaloupe Soup. A surprising ingredient, nonalcoholic sparkling cider, gives this sweet soup added effervescence.
4. Cauliflower: When it changes forms, cauliflower is capable of so much. Giada De Laurentiis' Cold Cauliflower Soup with Bacon and Croutons is chilled proof.
5. Carrot: This Chilled Carrot Soup is in no way reminiscent of a juice cleanse. With creamy coconut milk, tangy orange juice and fresh ginger, it results in a whole lot more than you'd expect from an unassuming carrot.
6. Beet: For beet soup that isn't quite borscht, Chilled Tomato and Beet Soup hinges on lycopene-packed ingredients with a punch: roasted red peppers, pickled beets, sun-dried tomatoes and even fresh tomatoes. Stud it with store-bought beet chips for a crouton alternative that'll feel right at home.
7. Watermelon: Trade a nibble from the rind for Tyler Florence's freshening Watermelon Gazpacho. Pureed with tomatoes and cucumbers, this summer soup gets its zing from serrano chiles and a little red wine vinegar.
8. Tomato: We're so used to dipping our grilled cheese sandwiches in a steamy bowl of tomato soup, but Giada reveals the benefits of taking this veggie soup cold. Try topping her Orange-Scented Chilled Tomato Soup with a maple-spiked Greek yogurt drizzle.
9. Corn: Slide fresh corn kernels from the cob to create a Chilled Corn Soup. Blended with coconut milk using an immersion blender, this cool-as-can-be soup can be taken with a kick of chipotle adobo that's tempered with refreshing balls of honeydew.
10. Honeydew: If the honeydew melon balls were the best part of soup No. 9 for you, go all the way with Chillout Honeydew Soup with Ham. Think of it as the souped-up rendition of serrano-wrapped melon.
More chilled soup recipes from friends and family:
Feed Me Phoebe: Creamy Spanish Cold Tomato Soup (Salmorejo Cordobes)
The Lemon Bowl: Chilled Cucumber Mint Yogurt Soup
Weelicious: Summer Fruit Gazpacho
In Jennie's Kitchen: Watermelon Gazpacho
Devour: 4 Cool Summer Soups
FN Dish: Take Out Your Blender (10 Refreshing Summer Soups)
More posts from Allison Milam.
Similar Posts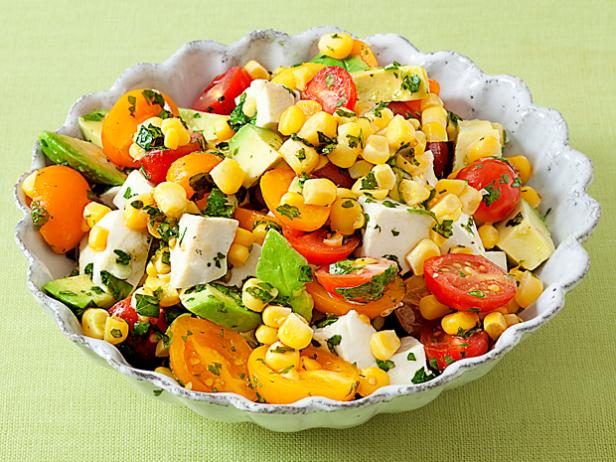 When it's too hot to cook, look no further than these tomato-focused recipes....