Some would say that a plate of smoky beef brisket or a home-grilled burger can't be taken seriously without a scoop of potato salad — and rightfully so. When it comes to this creamy, satisfying side, tender potatoes are just the starting point, laying the foundation for all kinds of dressings and add-ins. This week, spread out a picnic blanket and dive into potato salads that have never seen the inside of a deli container.
1. Keep It Classic and Cold: A classic American potato salad is barbecue's best mate for a reason. Alton Brown's Cold-Fashioned Potato Salad (bottom right) is the classic recipe you'd expect at your cookout, and it's taken down to a science in true Alton style.
2. Choose a Baked Potato: Rather than bringing your spuds down to a boil the traditional way, Alex Guarnaschelli makes her Baked Potato Salad by sliding Yukon golds into the oven. Packed with herbs (don't throw away those stems!), her version is best enjoyed at a beach picnic.
3. Take It Sweet: Though your current go-to likely comes with regular potatoes, Trisha Yearwood's Sweet Potato Salad (top left) is a brighter rendition in so many ways. After boiling the sweet potatoes, she tosses them with ingredients like Greek yogurt, orange zest, apple cider vinegar and even hot sauce.
4. Get Inspired by Breakfast: Just like bacon and eggs go with hash browns, Robert Irvine's Bacon-and-Egg Potato Salad (bottom left) for Food Network Magazine is a flavor combination that can be enjoyed well past when the alarm clock goes off.
5. Liven It Up with Chipotle: It should be no surprise that Bobby Flay's take on the summer side comes with a real kick. Mesa Grill's Southwestern Potato Salad is loaded up with chipotle, cayenne and chopped cilantro.
6. Make It the German Way: Taken warm, Bobby's German Potato Salad is big on mustard and the smoky vibes of bacon.
7. Whip Up Homemade Mayo: While you could go ahead and unscrew a jar, Anne Burrell proves that it's easy to make a homemade mayo to stir into her Super-Zesty Potato Salad (top right).
8. Crack an Egg: Do as the Neelys do and incorporate sliced and crumbled hard-boiled eggs into Grandma Jean's Potato Salad.
9. Grill the Potatoes: After boiling the potatoes the traditional way, throw them on the grill for a charred, caramelized twist. Toss them with a bacon-green onion vinaigrette for Melissa d Arabian's Grilled Potato Salad.
10. Add Veggies: Along with crunchy bites of haricots verts, Anne's String Bean and Potato Salad packs salty Kalamata olives.
If you just can't get on the mayo train, there's hope for you. Mayo-free potato salad dressings, like Greek yogurt and hummus, cut back on extra fat without losing the creaminess.
More potato salad recipes from friends and family:
Chez Us: Baked Potato Salad
The Heritage Cook: French Potato Salad with Haricot Vert (Gluten-Free)
Weelicious: Blue and White Potato Salad
Napa Farmhouse 1885: Mom's Potato Salad (the Best Ever!)
Red or Green: Spicy Potato Salad with Jalapeno and Vinegar Vinaigrette
Feed Me Phoebe: Healthy Greek Potato Salad
Elephants and the Coconut Trees: Creamy Potato Salad with Mint
In Jennie's Kitchen: Warm Smashed Roasted Potato Salad
Domesticate Me: Warm Roasted Potato Salad with Pancetta, Sun-Dried Tomatoes and Arugula
FN Dish: 10 New Ways to Do Up Potato Salad
More posts from Allison Milam.
Similar Posts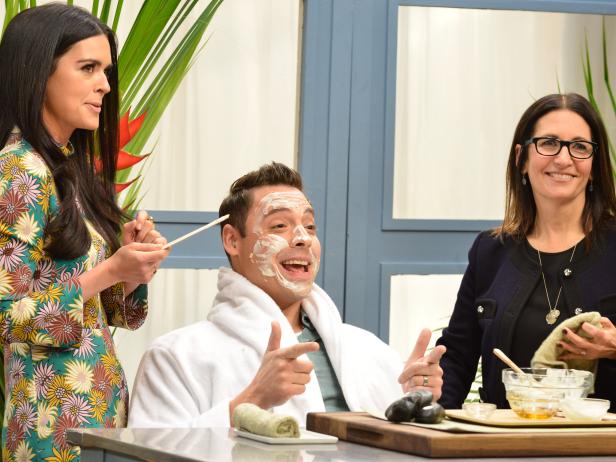 You don't have to travel somewhere exotic to make the most of your time off....