This weekend on Food Network, there are celebrations aplenty as your favorite stars share their tried-and-tested party recipes.
On Saturday, join Ree Drummond as she plans a huge engagement party for a friend featuring mouthwatering recipes on The Pioneer Woman. Next, the hosts of The Kitchen are creating fresh recipes with in-season summer produce. Later that night, check out a new episode of Iron Chef America in which Iron Chefs Bobby Flay and Masaharu Morimoto are paired with actor Anthony Anderson and food writer Simon Majumdar for the ultimate bar food battle.
On Sunday, Ina Garten returns with an all-new cocktail-themed episode of Barefoot Contessa, and Bobby is going global with a fresh new take on tacos on Barbecue Addiction: Bobby's Basics. Next, get ready for battles galore as the competition heats up on new episodes of Guy's Grocery Games, Food Network Star and Cutthroat Kitchen.
The Pioneer Woman: Engagement Dinner
Ree and her sister-in-law are throwing a big engagement bash for a friend. There are irresistible appetizers; Brie-Stuffed Mushrooms, Bacon-Wrapped Chili Shrimp, and an amazing main-course meal: Herb-Roasted Prime Rib with Horseradish Sauce, Whisky-Glazed Carrots, and Roasted Asparagus and Peas on the side. For dessert: Chipotle-Salted Chocolate Truffles, a tower of cupcakes and glasses of fizz to toast the future Mr. and Mrs.
Saturday 10a|9c
The Kitchen: So Fresh and So Green
This episode is all about the freshest fruits and vegetables of the summer season. Jeff Mauro kicks it off with a Grecian grilled chicken salad. The Kitchen co-hosts share five unexpected uses for soy sauce. Marcela Valladolid conquers jicama and cooks up delicious flank steak-stuffed Jicama Tacos. Plus, a salad edition of Tool Take Down helps you decide which gadgets are good for your greens and fruits.
Saturday 11a|10c
Iron Chef America: Ultimate Bar Food: Flay/Anderson vs. Morimoto/Majumdar
Iron Chefs paired with amateur cooks raise the bar on common food fare in a food fight brawl. Iron Chef Bobby and actor Anthony take on Iron Chef Masaharu and food writer Simon. The judges are Billy Harris, Donatella Arpaia and Adam Fleischman.
Saturday 11|10c
Barefoot Contessa: Cocktails and Cookies
It's all about brunch, baking and cocktail shaking as Ina asks her Hollywood mogul friends over for Breakfast Ricotta with Berries and Maple Syrup. Then, Ina's showing the guys how to bake Whole-Wheat and Peanut Butter Dog Biscuits for their pooch, and delicious Jalapeno Cheddar Crackers to go perfectly with the Blood Orange Cosmos the guys are mixing up.
Sunday 10a|9c
Barbecue Addiction: Bobby's Basics – Grilled Taco Party
Chef Bobby demonstrates some of his favorite grilling shortcuts with a crowd-pleasing taco-themed menu. He reveals his secret for getting smoky flavor for his Glazed Lamb Tacos with fresh salsa, and he puts together a spice-infused Portobello and Rajas Salsa Taco with Queso Fresco. Plus, Bobby makes his go-to five-ingredient salad and a party pitcher of Brazilian Limeade.
Sunday 11a|10c
Guy's Grocery Games: Weight for It!
In Watch Your Weight, the chefs must scale the aisles to rein in their pounds before the big weigh-in. Who can tighten their belt enough to make the best burger? Making a meal with two sides sounds easy, until the chefs learn they're playing the chilling Frozen Food Feud. The last two chefs must dive into Guy's Grocery List to make a winning pork dinner. Which chef will make the judges pig out more? Who will go on to win up to $20,000?
Sunday 8|7c
Food Network Star: One-of-a-Kind Experience
As Las Vegas is all about one-of-a-kind experiences, the finalists are divided into two teams, and each must create a memorable dining experience for the Selection Committee along with special guest Penn Jillette. The team voted least successful lands in the bottom three.
Sunday 9|8c
Cutthroat Kitchen: Welcome to the Jungle
The kitchen erupts in flames when one chef cooks with Alton Brown's jungle torch. Later, an oversize fondue pot leads to an oversize mess.
Sunday 10|9c
More posts from Nikhita Mahtani.
Similar Posts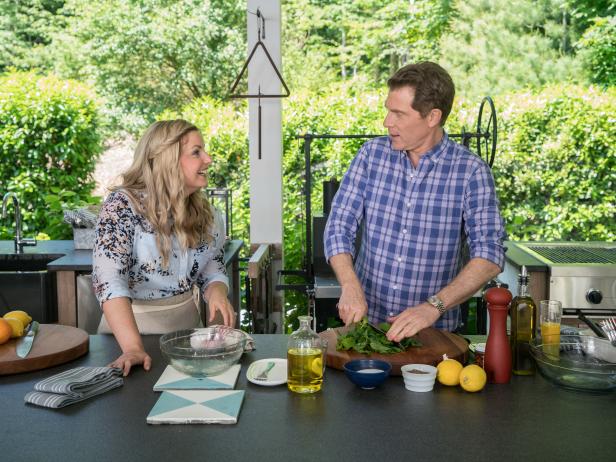 Get the latest details on the all-new series, The Bobby and Damaris Show....